Russian experts neutralize 120 explosive devices on approaches to Palmyra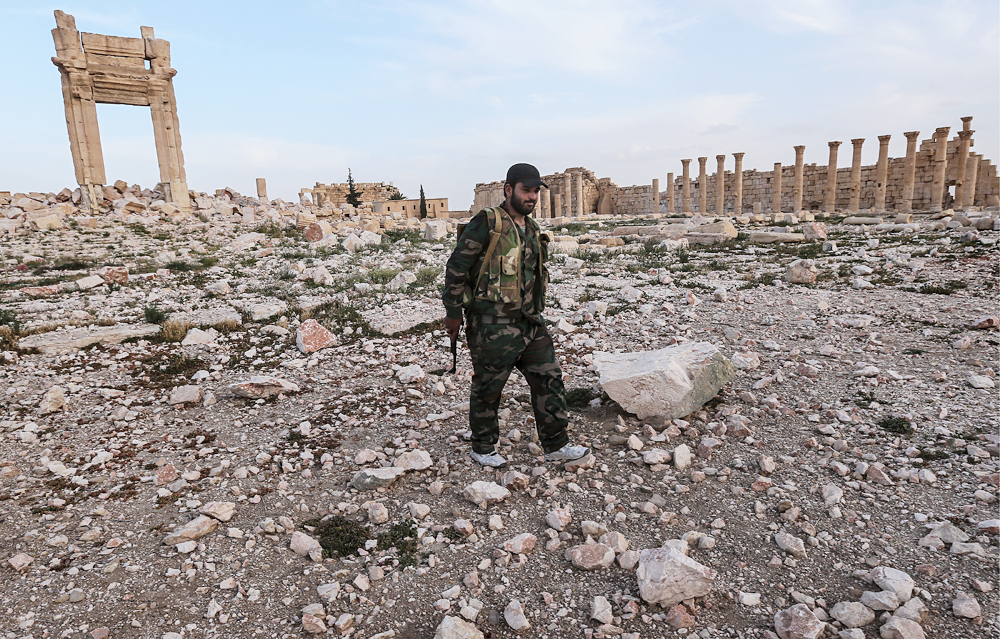 A Syrian government army soldier on ruins of the temple of Bel destroyed by ISIS militants in Palmyra, a UNESCO world heritage site.
Valery Sharifulin/TASS
Experts begin demining roads leading to the historical part of Palmyra
Russian bomb disposal experts in Syria have begun demining roads leading to the historical part of Palmyra; over 120 explosive devices have already been made safe.
"In all, since the start of the demining, Russian specialists have discovered and rendered safe over 120 explosive devices and cleared 1.1 kilometers of roads from explosive items," the ministry's spokesperson told Interfax on April 4.
The mixed squad from the Russian Federation Armed Forces International anti-mine center has begun an engineering reconnaissance and demining of an approach to the historical part and surroundings of Palmyra, the spokesperson said.
"During the engineering reconnaissance, International anti-mine center specialists found and recovered improvised explosive devices planted inside asphalt roads, street crossings, roadside structures and public infrastructure (power substations, water pump stations, bakeries, hospitals), made in the form of water pipeline trunks stuffed with explosives, as well as improvised cumulative and anti-tank mines fitted with electric detonators," the spokesperson said.
Inextractable explosive devices were destroyed by bomb disposal experts on the spot by means of special pressure charges, the spokesperson said.
All rights reserved by Rossiyskaya Gazeta.