Russian student Karaulova accused of trying to join ISIS found sane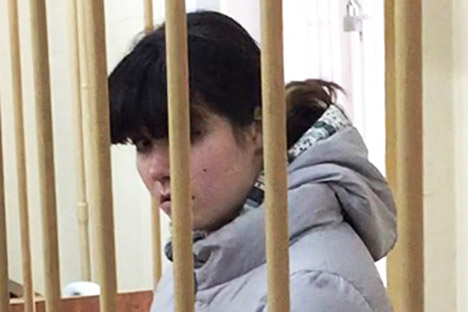 Moscow State University student Varvara Karaulova.
Press office of the Lefortovsky District Court/TASS
Her lawyer calls the results of the forensic evaluation predictable
Moscow State University student Alexandra Ivanova (Varvara Karaulova), who is accused of trying to join ISIS has been found sane in a psychiatric evaluation, her lawyer, Sergei Badamshin, told Interfax.
"I can't disclose any details of the expert evaluation, but I can say that my client was found sane on the basis of its results," Badamshin said on April 7.
The lawyer called the results of the forensic evaluation predictable.
Ivanova (Karaulova) has been kept in a detention facility by a decision made by the Moscow Lefortovo Court since October 28, 2015. Her arrest was extended until March 27. The girl's defense lawyers filed a claim with the European Court of Human Rights, contesting the decision to arrest her, and alleging violations against her, committed by investigators in the course of the investigation.
Ivanova (Karaulova) is charged with trying to participate in a terrorist organization.
In accordance with the case materials, Ivanova (Karaulova) admitted her guilt when she was questioned as an accused. The student's parents believe the girl was not able to get over her pathological love for her virtual boyfriend, who turned out to be an Islamist recruiter.
Karaulova disappeared in Moscow, on May 27, after she left for university, but failed to show up in class. In early June, it emerged that she was among the 13 Russians held on the Turkish-Syrian border, who were thought to be planning to join Islamic State. Karaulova returned to Moscow on June 11. Subsequently, she changed her first and last names.
The investigators believe the girl continued talking to the ISIS recruiter after arriving in Russia, and intended to go to Syria again.
The defense lawyers insist that the accusations are ungrounded.
All rights reserved by Rossiyskaya Gazeta.