IAC: FlyDubai Boeing crashed in Rostov was landing in manual mode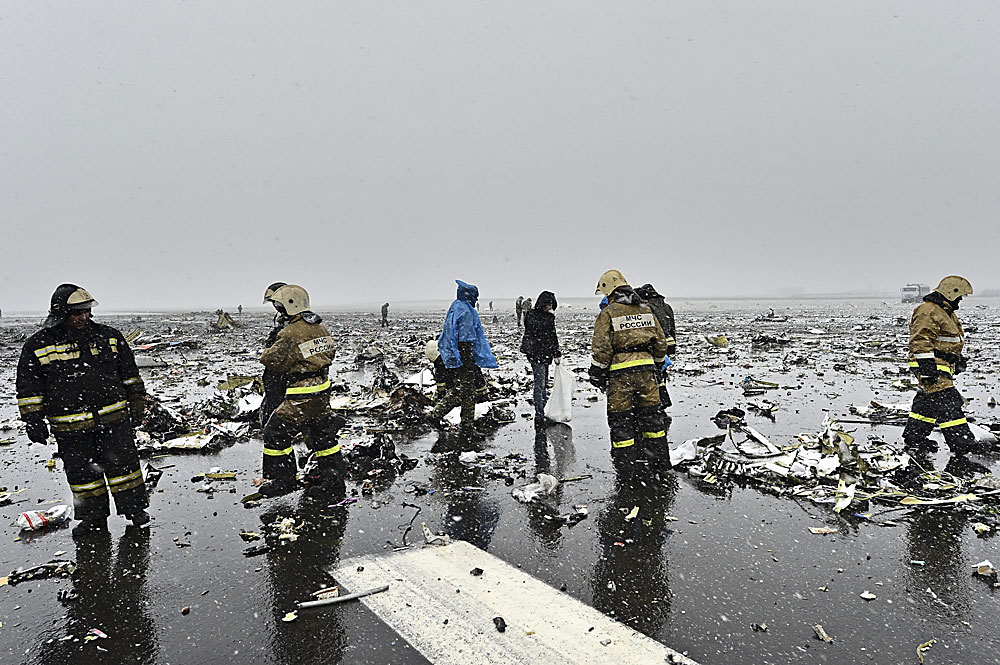 Russian Emergency Ministry employees are seen among the wreckage of a crashed plane at the Rostov-on-Don airport, about 950 kilometers (600 miles) south of Moscow, March 19, 2016.
AP
The plane was landing in the manual mode under complex weather conditions
The crew of the FlyDubai Boeing that crashed in Rostov was landing in the manual mode, says a report posted on the Interstate Aviation Committee (IAC) website on April 8.
"It has been established from the preliminary analysis of flight recorder data that the crew was conducting the approach in the manual mode (the auto-pilot was turned off) under complex weather conditions (cloud base 630 meters, wind 230 degrees, 13 meters per second, gusts of wind 18 meters per second, light shower, haze, straight-in extreme turbulence and moderate wind shear)," the IAC report said.
The crew chose to make a second approach after it had been informed about a sudden change in wind parameters.
"While making the second approach at 10:42 UTC at the altitude of 340 meters and having received information about 'a wind shift' (a sudden change of the wind force and direction) from the onboard system, the crew decided to make a second approach and flew around the airport to wait for better weather," the report said.
During the second approach, which was also performed in the manual mode, the crew decided at an altitude of 220 meters (four kilometers from the runway) to make another approach and initiated a climb, shifting the engines to the takeoff regime.
IAC said the pilots had relevant documents and certificates for performing that flight.
"Judging by the information obtained by the commission, the aircraft pilots had valid piloting certificates, were duly trained, possessed sufficient experience of piloting this type of aircraft, and had all the necessary documents," the report said.
The two-hour tape from the voice recorder has almost been listened to and put on paper, the committee said.
"It is planned to clarify the content of the communication, to make translations from English and Spanish and to identify the speakers, for which specialists from the UAE, the United States and Spain will be engaged in the work at the IAC laboratory," the report said.
The Boeing 737-800, en route from Dubai to Rostov-on-Don, crashed on March 19 about 250 meters short of the runway while attempting a landing. All 55 passengers and seven crew members were killed in the disaster.
All rights reserved by Rossiyskaya Gazeta.