Medvedev urges Karabakh conflict parties to search for compromise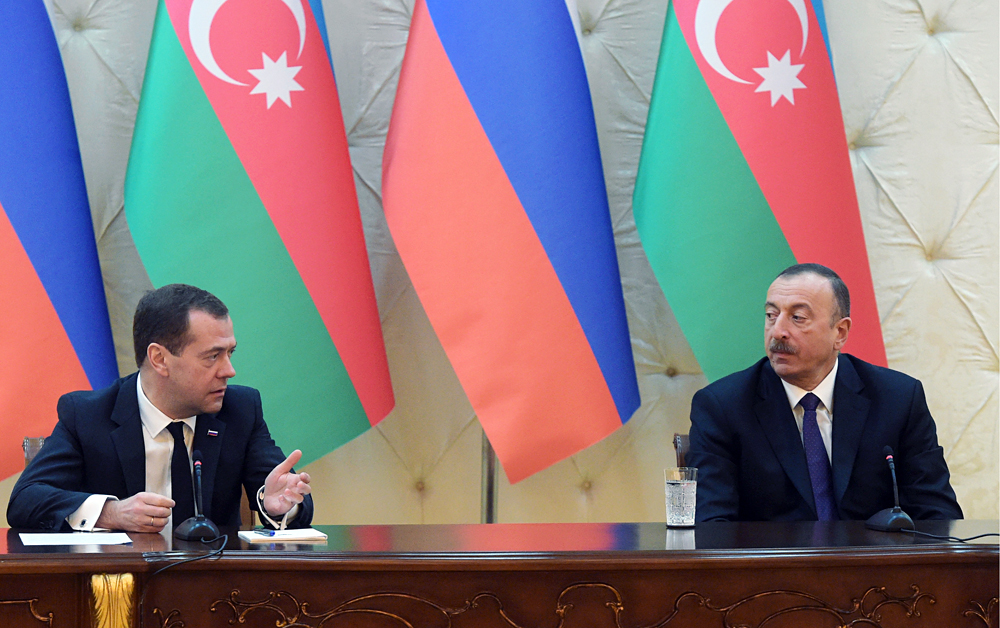 Russia's Prime Minister Dmitry Medvedev and Azerbaijan's President Ilham Aliyev give a joint press conference following their meeting, April 8.
Alexander Astafyev/Russian Government Press Office/TASS
Azerbaijan will continue to take part in the talks for conflict settlement
Russian Prime Minister Dmitry Medvedev said on April 8 that the parties to the Nagorno-Karabakh conflict should be looking for compromise.
"Not a single conflict has ever ended with the victory of one party; this is always a set of complex compromises which have to be made for resolving the conflict and reaching a lasting peace on land," Medvedev said after his negotiations with Azerbaijani President Ilham Aliyev.
The truce reached after the escalation of tensions in Nagorno-Karabakh is supposed to enable the sides to unfreeze their negotiations, to reconcile their positions and to look for compromises, Medvedev said.
"We are committed to the idea of a peaceful settlement to this conflict as strongly as possible. Very serious forces were applied in order to achieve this result. We all took part in it," Medvedev said.
In his turn, Ilham Aliyev said Azerbaijan values Russia's role in settlement of the Karabakh conflict.
"Russia plays an important role in conflict settlement as the OSCE Minsk Group co-chair. We value this very highly. This was specifically demonstrated at the backdrop of one more Armenian armed provocation, when our positions were attacked, including the damage was caused to several localities," Aliyev said.
Azerbaijan will continue to take part in the talks for conflict settlement, he said.
All rights reserved by Rossiyskaya Gazeta.