Putin and Poroshenko discuss Donbass settlement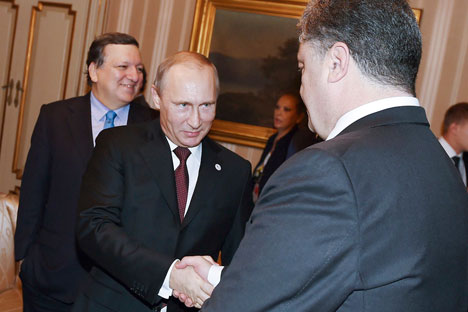 Russia's President Vladimir Putin shakes hands with Ukraine's President Petro Poroshenko as he arrives for a meeting on the sidelines of a Europe-Asia summit in Milan, October 17, 2014.
Reuters
Russian and Ukrainian presidents hold a phone conversation
Russian President Vladimir Putin and Ukrainian President Petro Poroshenko held a telephone conversation on April 18 evening, Kremlin spokesman Dmitry Peskov has said.
"The discussion addressed the settlement process in the south-east of Ukraine and current issues concerning bilateral relations," Peskov said.
"The issue of Nadiya Savchenko, as well as the fate of Russian citizens Alexandrov and Yerofeyev was discussed as well," he noted.
"The presidents agreed that Ukraine's consul general in Rostov-on-Don will be allowed to visit Savchenko in the near future," he said.
Meanwhile, Peskov has abstained from comments on the possible exchange of Savchenko for two Russian men.
"We will not say for now in what vein the future of the Russian citizens and the Ukrainian national has een discussed," Peskov told.
All rights reserved by Rossiyskaya Gazeta.