Hague court upholds Russian appeal against Yukos shareholders' claim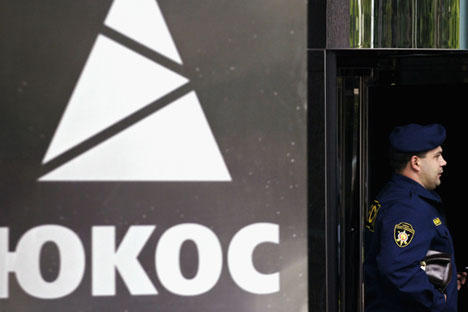 A security guard stands outside the main office building of Russian oil giant Yukos, on July 5, 2004 in Moscow.
Getty Images / Fotobank
Court overrules judgment binding Russia to pay $50 bln compensation
The Hague District Court has overruled the judgment binding Russia to pay $ 50 billion compensation to former Yukos shareholders, the Russian representative to the court told Interfax on April 20.
"Our appeal against the judgment of the Permanent Court of Arbitration in the Hague compelling the payment of $50 billion has been fully upheld," he said.
The appeal court decided that the Permanent Court of Arbitration had no jurisdiction over claims of the kind, he said.
"Today's judgment will cancel the demand for multibillion reimbursements by Russia," he said.
It was reported that in July 2014 that an arbitration court in The Hague ruled in favor of former shareholders of the oil company Yukos and compelled Russia to pay $50 billion, including $39.9 billion for the Cyprus-based Hulley Enterprises, $1.8 billion for Yukos Universal (Isle of Man) and $8.2 billion for Veteran Petroleum (Cyprus). Initially, the ex-shareholders demanded around $100 billion.
However, the court held that the Yukos shareholders share the blame for the company's demise since they used tax-avoidance schemes but Russia's response was disproportionate. Russia appealed against the ruling.
All rights reserved by Rossiyskaya Gazeta.