Russia and Italy to intensify cooperation on extradition of criminals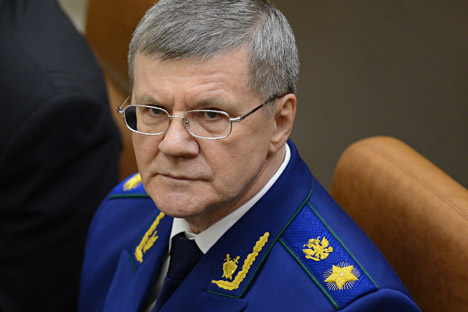 Yury Chaika, Prosecutor General of the Russian Federation.
Vladimir Astapkovich/RIA Novosti
Prosecutor General's Office, Italian Justice Ministry reached an agreement
The Russian Prosecutor General's Office and the Italian Justice Ministry have reached an agreement on intensifying cooperation on the extradition of criminals and the provision of legal assistance in the investigation of specific criminal cases, Russian Prosecutor's Office official Alexander Kurennoi told Interfax.
Kurennoi said the first working meeting with Italian Justice Ministry officials took place in Moscow under the agreement on cooperation between the Russian Prosecutor General's Office and the Italian Justice Ministry signed by Russian Prosecutor General Yury Chaika and Italian Justice Minister Paola Severino in July 2012.
"As a result, agreements were reached on prompt information exchange in the sphere of criminal justice procedure, on measures to reduce the period of time needed to consider requests for legal assistance, organization of the search for persons who are hiding from criminal prosecution in the territory of Italy, and also on the need to keep in custody persons whose extradition has been requested," Kurennoi said.
He also said that "on specific criminal cases, agreements were reached on more prompt execution by the relevant Italian agencies of Russian requests for legal assistance and extradition."
"The meeting addressed the state of cooperation on criminal cases, the current problems and ways of resolving them. The participants became familiar with Russian and Italian legislation on extradition and legal assistance and exchanged opinions on the issue of increasing the promptness and effectiveness of cooperation," the Russian Prosecutor's Office official said.
All rights reserved by Rossiyskaya Gazeta.