Second Zika case recorded in Russia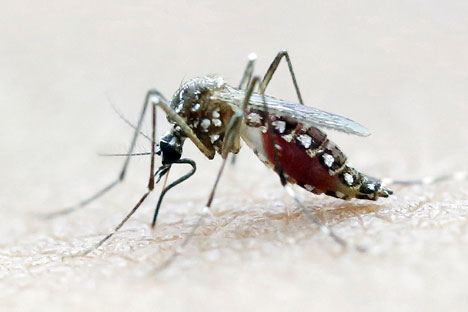 An Aedes Aegypti mosquito seen on a human hand in a lab of the International Training and Medical Research Training Center (CIDEIM) in Cali, Colombia
Reuters
The person is a tourist who recently visited the Dominican Republic
Two Zika virus cases have been recorded in Russia as of today, the director of the Russian consumer rights watchdog (Rospotrebnadzor) and Russia's chief epidemiologist, Anna Popova, told Interfax on April 22.
"More than three million people have been examined as of today. A total of 201 people with symptoms of infectious diseases have been recorded. Of them, 39 have been examined for the presence of the Zika virus," she said.
"As of today, two [Zika] cases have been confirmed," she added.
The second person diagnosed with the Zika virus is a tourist who recently visited the Dominican Republic, Popova said.
All necessary anti-epidemic measures have already been taken in full, Popova said.
The first person diagnosed with the Zika virus in Russia in February of this year was a woman living in Moscow, who spent her holidays in the Dominican Republic. Upon her return, she developed symptoms such as high fever and a skin rash. She was admitted to an infectious diseases hospital.
All rights reserved by Rossiyskaya Gazeta.