Performance artist Pavlensky to remain in custody 6 more months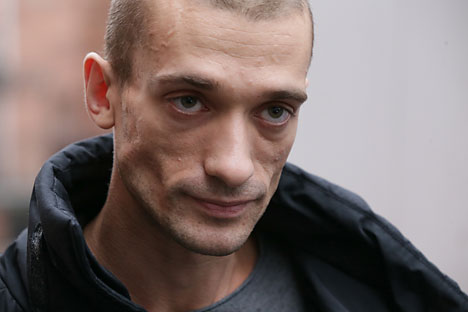 Artist charged for setting door of Russian FSB building on fire in Moscow
Moscow's Meshchansky Court has extended the arrest of performance artist, Pyotr Pavlensky, by six months, thus upholding a motion by prosecutor, Pavlensky's lawyer Olga Dinze said.
Moreover, the court has rescheduled the pre-trial hearings for May 4.
"The court has postponed the pre-trial hearings, because Pavlensky was not given notice of them," Dinze said following a session.
The session was held in a closed court.
Pavlensky was charged with the destruction of a heritage site, for setting on fire the door of the Russian Federal Security Service building in Moscow. As it was reported earlier, the investigative authorities estimate that the damage for Pavlensky's actions is 480,000 rubles.
Pavlensky was detained in the Central district of Moscow, in November 2015, following the arson of the door of the main entrance of the Russian Federal Security Service building, which was conducted demonstratively, in the presence of reporters. The lawyer for the artist has described his act as a reaction to, "burning issues of Russian society." Pavlensky himself said that his action should be regarded, "as a gesture in the face of terrorism."
Previously, Pavlensky was charged with vandalism, motivated by ideological hatred. The lawyer has said that the investigators concluded that the artist was pursuing "his own political and social aims" with the arson of the Russian Federal Security Service building door. Later, the investigation reclassified the defendant's actions under the Article 243 of the Russian Criminal Code (destruction of, or damage to, cultural heritage sites).
Moscow's Tagansky Court sanctioned the placement of Pavlensky into custody on November 10, 2015.
In the meantime, the 199th Circuit Magistrate Court of St. Petersburg, is conducting a trial in which Pavlensky is being charged with vandalism, for setting automobile tires on fire, near the Cathedral of the Savior on Spilled Blood, in support of the Ukrainian Maidan, in February 2014. The hearing has been rescheduled several times due to Pavlensky being in Moscow.
As it was reported earlier, the visiting session of the magistrate court was conducted in Moscow's Preobrazhensky Court on April 26, during which Pavlensky refused the termination of the court's proceedings on the grounds of the expiration of statue limitations.
Pavlensky is known for his 'performances' that mostly involve self-torture.
All rights reserved by Rossiyskaya Gazeta.