Eurasia needs broad anti-terror coalition - CSTO chief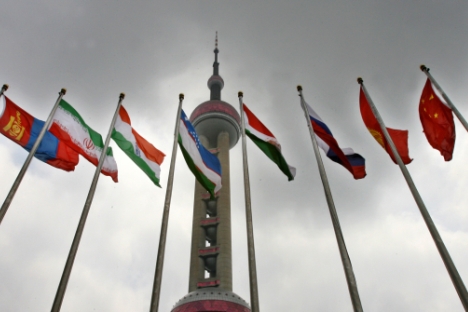 Flags of SCO members in Shanghai in 2014.
Image Forum
A coalition may be created by Russia, China, SCO and CSTO members.
A broad Eurasian coalition is needed to fight international terrorism, Nikolai Bordyuzha, General Secretary of the Collective Security Treaty Organization (CSTO) said on April 28. He added that such a coalition could be created by Russia, China, the CSTO and Shanghai Cooperation Organization (SCO) countries.
"I think there is a need to consider the possibility of consolidation around the Russian Federation and the CSTO countries, consolidation around China and the countries of the Shanghai Cooperation Organization, which could become a locomotive in the organization of the entire anti-terrorist fight," Bordyuzha said, at the Moscow Conference on International Security.
"With this approach and, most importantly, the political will of all of the countries, we can resolve this problem of creating a broad coalition, and increasing the effectiveness of counterterrorism within a short period of time," Bordyuzha said.
All rights reserved by Rossiyskaya Gazeta.