SamSat satellite launched from Vostochny transmitting fragmentary signals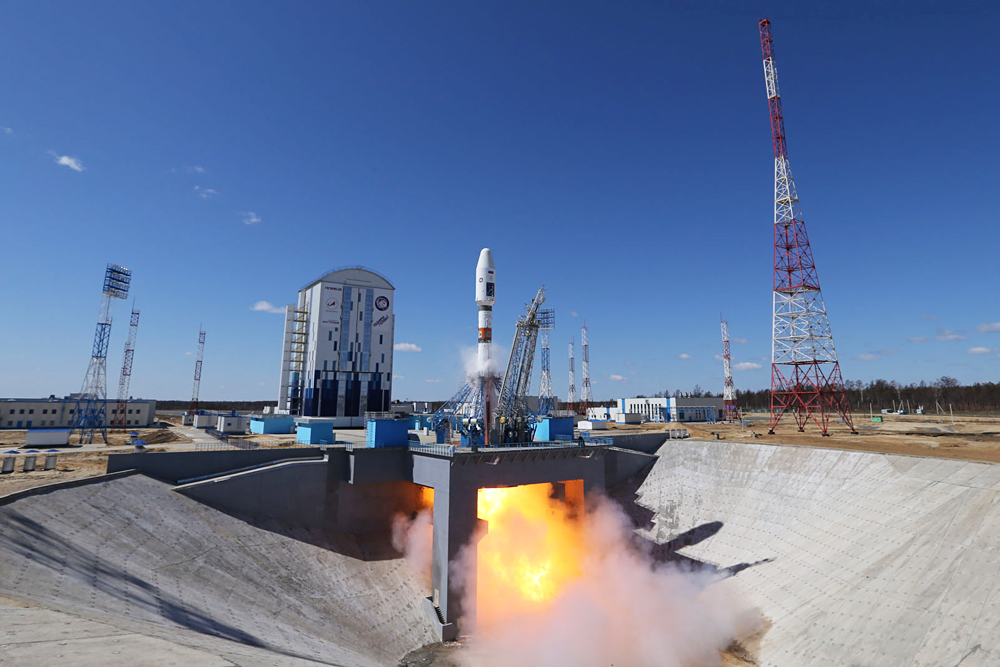 The launch of the Soyuz-2.1a carrier rocket with the three Russian satellites – Lomonosov, Aist-2D and SamSat-218 at the Vostochny Cosmodrome.
Olesya Kurpyaeva
A Soyuz 2.1a rocket carrying 3 spacecraft was launched on April 28
Russia's SamSat-218D Nanosatellite, which was launched from Vostochny Cosmodrome on April 28, is currently sending fragmentary signals, Samara State Aerospace University press service said.
"The nanosatellite is equipped with a radio beacon, which transmits the word 'SamSat-218D' in the Morse code. Currently, fragmentary Morse code signals are being heard coming from the nanosatellite, against the background of the noise during the satellite's pass over the receiving station. Now the designers of SamSat-218D are busy analyzing the data received in order to conceive the nature of this problem and how it can be possibly solved," according to the press release received by Interfax on May 4.
"At a rough estimate, the loss of signal from the satellite may be due to the spacecraft's intense eigenrotation," a source in the university told Interfax.
A Soyuz 2.1a rocket carrying three spacecraft - Lomonosov, Aist-2D and SamSat-218 - was launched from the Vostochny Cosmodrome at 5:01 a.m. Moscow time on April 28, 2016.
The science satellite Lomonosov was made by Corporation VNIIEM at the order of Lomonosov Moscow State University. The satellite was designed to conduct scientific experiments aimed to explore transient light effects, radiative properties of the Earth's magnetosphere, as well as for academic cosmological investigations. The spacecraft is equipped with a space telescope to measure from the earth orbit energy spectra and chemical compounds of cosmic rays of extreme high energy. Besides, onboard the satellite, there are systems of instruments installed to study cosmic gamma-ray bursts and near the Earth's magnetosphere.
The Aist-2D is a Russian-made Earth observation satellite with a resolving capacity of up to 1.5 meter. The spacecraft was developed and engineered jointly by RKTs Progress and the SSAU.
The SamSat-218 Nanosatellite is a constituent part of the Kontakt, a scientific package created by researchers of the SSAU and engineers of RKTs Progress. Another constituent part of the Kontakt package was installed onboard the small spacecraft Aist-2D. The package is aimed to help fine-tune technologies to control small satellite vehicles.
Some media reported that the SamSat-218 Nanosatellite failed to establish radio contact.
All rights reserved by Rossiyskaya Gazeta.