French couple deliver relics to family of Russian officer killed in Syria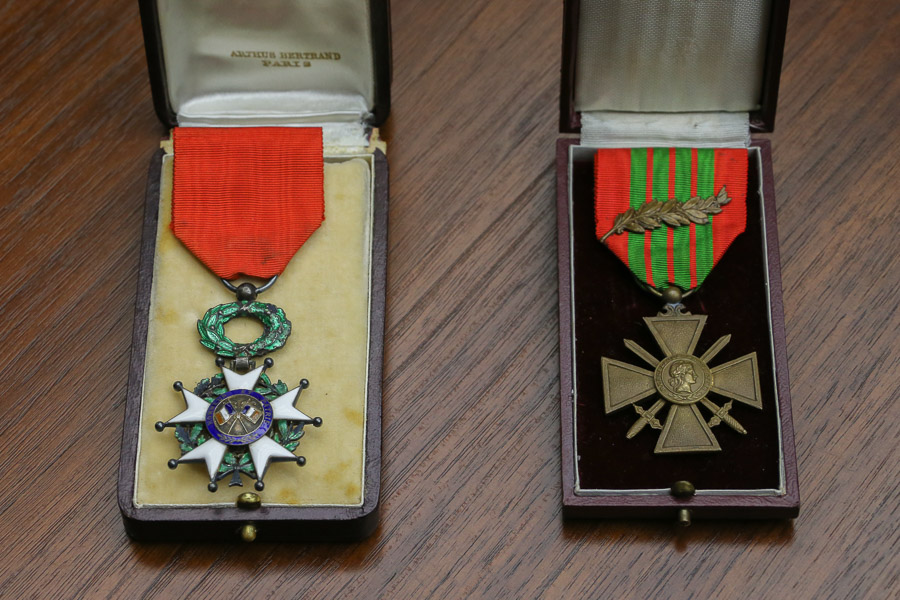 A Legion of Honor order and a Military Cross with palm branch.
Mil.ru
A Legion of Honor order and a Military Cross handed over to his relatives
A French married couple has handed over a Legion of Honor order and a Military Cross with palm branch to the relatives of Senior Lieutenant Alexander Prokhorenko who died in Syria.
The awards, which belong to the relatives of the French couple, were handed over by Micheline and Jean-Claude Maguet to the officer's parents Alexander and Natalia Prokhorenko and brother Ivan at the Russian Defense Ministry.
"Allow me, on behalf of Russian Defense Minister Army Gen. Sergei Shoigu, to thank you for the noble, touching gesture of a genuine ally," Russian Deputy Defense Minister Nikolai Pankov said at the meeting.
"Thank you for having found the time and possibility to come to Russia and personally deliver your family's military awards to the family of the Russian officer," the deputy minister said.
Jean-Claude Maguet said he learnt about the heroic feat of the Russian officer from the Internet, there was no report about it in the French media.
"This man died a hero and we are very proud of him. We want to hand our family awards to you. Of course one could say it is of no major official importance, it is a personal gesture. It is to you, the family of the hero, that we would very much like to hand these awards," the Frenchman said.
He told the story of these awards. The Legion of Honour order of the Chevalier (Knight) degree was awarded posthumously to Micheline's uncle for his participation in the Resistance and incarceration in Buchenwald.
The second award, the Military Cross with palm branch, is from Micheline's father who served in a tank division during the Second World War.
"Of course, this will not return to you your hero, your beloved son back into family. But we want you to know that our hearts go to you and we are grieving together with you," Maguet said.
For his part, Alexander Prokhorenko the senior thanked the French couple for compassion. "I want to say a big thank you for the awards. We will keep them forever," Prokhorenko said.
Source: Mil.ru
The Maguet family also handed over to the slain officer's parents commemorative medals from their home city, which read: "To the parents of the armed forces soldier who died a hero" and yet another Legion of Honor order from other French citizen, Daniel Couture.
Prokhorenko died while he was directing Russian airstrikes against ISIS militants near Palmyra. Having found himself surrounded by the enemy, he ordered an airstrike on himself.
He was born in Orenburg region, graduated from an anti-aircraft missile school and an air defense academy in Smolensk. On April 11 the Russian president signed a decree awarding Prokhorenko posthumously with the title of the Hero of Russia. The Orenburg authorities decided to name a city street after him.
All rights reserved by Rossiyskaya Gazeta.