Palmyra's restoration may take 5-7 years - Russian representative to UNESCO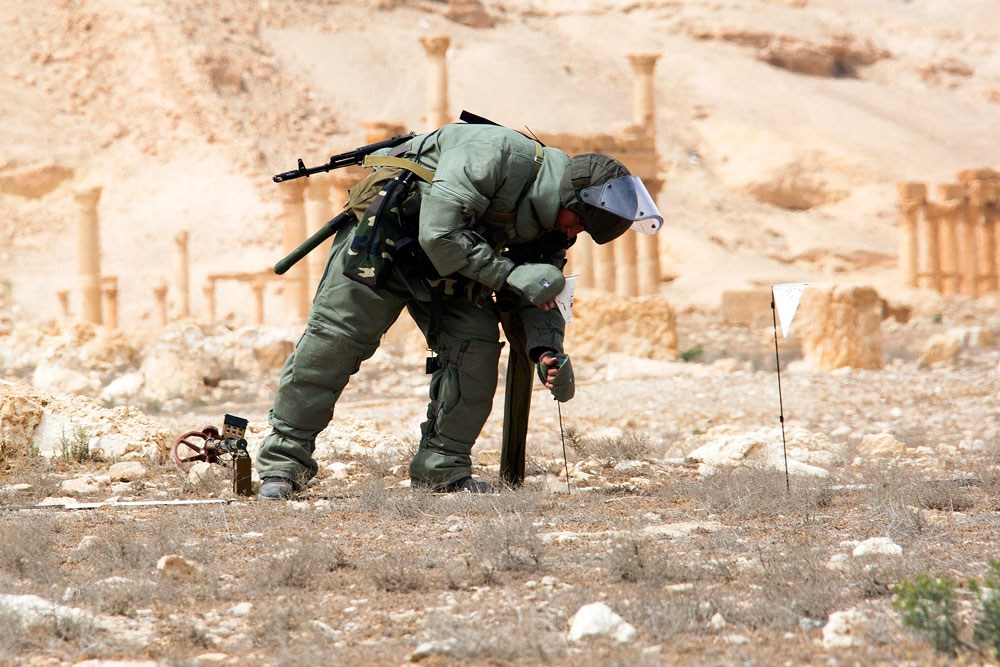 A combat engineer of the Russian Armed Forces' International Mine Action Center clearing mines from the ancient town of Palmyra.
Konstantin Leyfer / TASS
Several countries will take part in the restoration of monuments
The restoration or reconstruction of ancient Palmyra monuments in Syria, that were destroyed by ISIS terrorists, will take, according to the estimates of specialists, 5-7 years, Russian Permanent Representative to the United Nations Educational, Scientific, Cultural Organization (UNESCO) Eleonora Mitrofanova said.
"As for the timeframe (of Palmyra's restoration), specialists say that this may take 5-7 years," Mitrofanova told reporters in Palmyra on May 5.
In response to the questions as to when Palmyra's restoration will start, Mitrofanova said: "In principle, all these questions have been discussed in detail already now. In particular, a special conference, which will be dedicated to Syrian world heritage, will be held in Berlin on June 2-3.
"But, all will depend on what conclusions specialists will draw. Only after a detailed survey will it be possible to understand what to do with these sites - restore, reconstruct and so on, and so forth."
Mitrofanova also said that an appropriate organizational structure would be set up, within the framework of which this activity would be conducted.
In response to a question as to who will fund the restoration works, Mitrofanova said UNESCO will not do this. "Certainly, this will be the international community: a foundation or each country on the bilateral basis will fund it."
Mitrofanova said that, as of now, several countries had already voiced their intention to engage in the restoration of monuments in Syria's Palmyra. In particular, these are Polish specialists, who have already been involved in the restoration of sites in Palmyra.
"They came here at the invitation of the Syrian side. As of now, the money from the European Union, Bahrain, Austria, Greece, Italy, Russia is also available, a good deal of countries expressed their wish. But at first, one needs to understand what to do and then to give the money," Mitrofanova said.
All rights reserved by Rossiyskaya Gazeta.