U.S. ambassador proud that U.S. and Soviet peoples fought Nazism together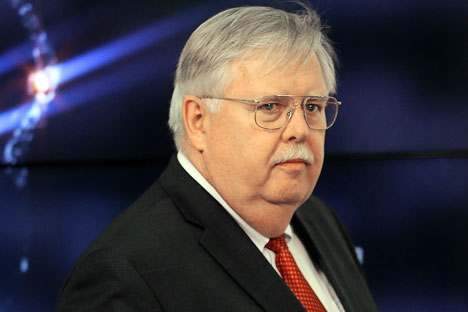 U.S. Ambassador to Russia John Tefft.
Anton Denisov / RIA Novosti
John Tefft laid a wreath to the Tomb of the Unknown Soldier in Moscow
The United States deeply respects the memory of the Soviet people who gave their lives in fighting Nazism during WWII, U.S. Ambassador John Tefft said.
"We have a deep and abiding respect for the tremendous sacrifices made by the Soviet people during the Great Patriotic War," Tefft said in a statement after laying a wreath to the Tomb of the Unknown Soldier in Moscow on May 6.
The U.S. ambassador said he was "proud that our two nations stood arm in arm in fighting together to defeat the scourge of Nazism."
"This year we celebrate the 75th anniversary of the Lend-Lease program. The program led to the United States providing members of the anti-Hitler coalition with over $50 billion dollars of equipment, weapons, ammunition, vehicles and food," he said.
"This is a very important page in American history, but also a significant step in the history of the United States and the Soviet Union relations. Later this summer I will visit the graves of Americans who perished while providing lend lease equipment to the brave people of the Soviet Union," he said.
"In my mind, Victory Day commemorates not just the enormous sacrifice of the fallen and those who survived the war. It also commemorates how we worked together at a time of great need. Let us never forget the sacrifice, courage, and hard-fought triumph of the generations that have come before us," Tefft said.
All rights reserved by Rossiyskaya Gazeta.