Putin joins the 'Immortal Regiment' march in Moscow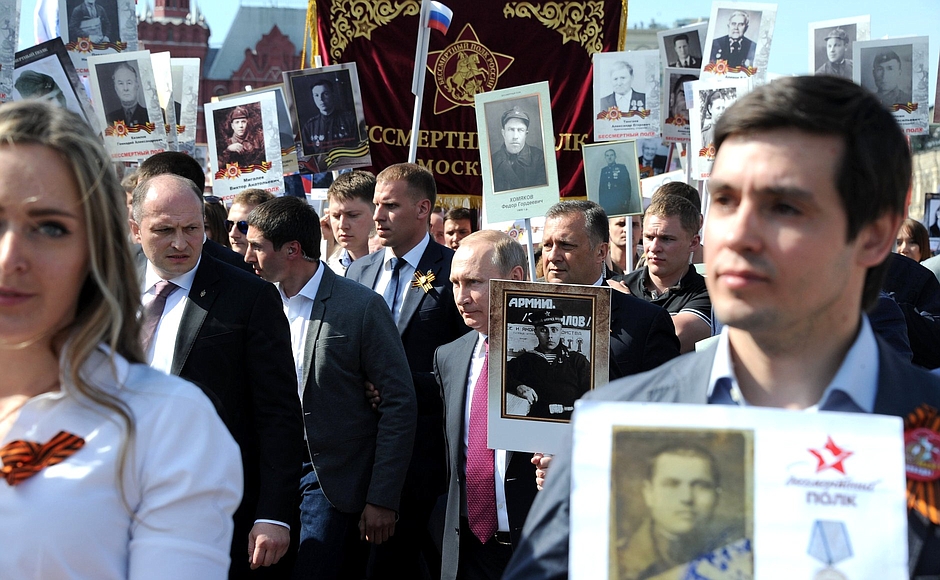 Vladimir Putin is taking part in the "Immortal Regiment" event.
Kremlin.ru
President takes part in the procession carrying a portrait of his father
Russian President Vladimir Putin once again took part in the "Immortal Regiment" action in the center of Moscow on the Victory Day.
The head of state, carrying a portrait of his father - a WWII soldier, joined the procession which came from Leningradskoye Shosse and Tverskaya Street to Red Square.
The same as last year, the president did not plan to participate in the "Immortal Regiment" march in advance.
Putin said several days before May 9 that, although his heart always lied there and he was a member of that regiment, his participation in the march would depend on the way his busy schedule would be on that festive day.
The president found enough time for joining those who went into the streets of many Russian cities with photographs of their family members - WWII soldiers in their hands.
Last year, the Russian president had his first walk within the "Immortal Regiment" in the center of Moscow. He said later that his decision to join the procession was spontaneous.
"It was a last minute decision; I did not know whether I could make it or not and I chose the father's photograph close at hand. That was not planned in my schedule. I would not want the sentiment coming from the heart of every person and the entire people to be bureaucratized," the president said.
The president said he decided, like many other Russians, to take the place in the procession which belonged to their family members killed in the WWII years.
He strongly opposed any official status of the "Immortal Regiment" action. "This initiative is valuable because it originated in the hearts of our people, rather than in offices or administrations. This is a demonstration of our respect for the generation that protected the country," he said.
This year, Putin again reminded that "the action was not an administrative idea."
The president added that "if this movement develops and becomes traditional, we will support it in every way we can."
Speaking at a forum of the Russian People's Front in April, Putin said, "Our mentions of the victory in WWII and the Great Patriotic War are not about national snobbism. This is an absolutely principled and substantive issue. We have right to be proud of what our ancestors and our country have done."
"Another thing, which is no less important and no less topical, is that whenever we recall those heroic years, we must do everything so that nothing repeats in the history of our country and the entire world. One cannot develop an attitude to the future without knowing history, so we have been doing this and we will continue to do so," the Russian president said.
All rights reserved by Rossiyskaya Gazeta.