Russian and Kazakh presidents lay wreath at Unknown Soldier's Tomb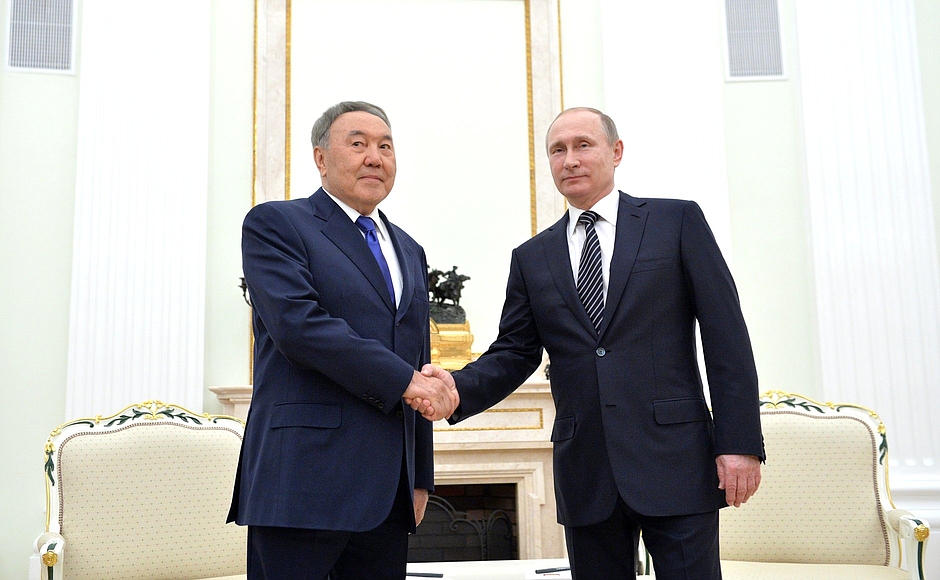 Nursultan Nazarbayev and Vladimir Putin.
Kremlin.ru
Vladimir Putin and Nursultan Nazarbayev paid tribute to the fallen soldiers
Russian President Vladimir Putin and his Kazakh counterpart Nursultan Nazarbayev paid tribute to the fallen soldiers by laying wreaths at the Eternal Flame near the Unknown Soldier's Tomb in Alexander Garden in Moscow on the Victory Day.
Soldiers from the Guard of Honor company placed two wreaths at the memorial. One of the wreaths was made of red roses and carnations and had an inscription, which read, "To the Unknown Soldier from the President of the Russian Federation."
Putin and Nazarbayev neatly arranged bands on the wreaths and bowed their heads to pay tribute to the fallen soldiers of WWII. The national anthems of Russia and Kazakhstan were played.
The ceremony was attended by veterans, Russian Prime Minister Dmitry Medvedev, Federation Council Chairperson Valentina Matviyenko, State Duma Speaker Sergei Naryshkin, Kremlin Administration Head Sergei Ivanov, Constitutional Court Chairman Valery Zorkin, Defense Minister Sergei Shoigu and a number of Kazakh ministers.
After that the presidents of Russia and Kazakhstan laid carnations at hero city monuments in Alexander Garden for commemorating defenders of hero cities.
All rights reserved by Rossiyskaya Gazeta.