Rosturism: 1 mln Russians may visit Greece in 2016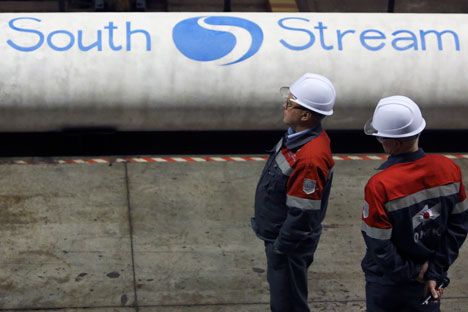 Employees stand near pipes made for the South Stream pipeline. Source: Reuters
More than 50 joint events will be held in the tourism cross-year
Greece is No 1 in terms of vacation bookings from Russia this May, and Russian tourist arrivals in the country may reach one million in 2016, Federal Tourism Agency (Rosturizm) head Oleg Safonov said on May 11.
"It seems Greece will be the country most visited by Russian tourists this year," Safonov said in his greetings at the opening ceremony of a Russian-Greek tourism forum in Athens.
"Already in May, it is the leader in summer vacation booking and sales," he said.
"This is a good trend. We saw the maximum of tourist arrivals, 1.2 million people, in 2013. Alas, 2014-2015 saw a downward trend, but I believe that tourist arrivals can grow a lot this year. Russian tourist arrivals in Russia may reach one million people by the end of the year," Safonov said.
Russia and Greece are connected by a thousand-year history; they have bonds in religion, history, etc, he said.
More than 50 joint events will be held in the tourism cross-year of Russia and Greece in 2016, he said.
All rights reserved by Rossiyskaya Gazeta.