Povetkin's team could challenge U.S. boxer Wilder in court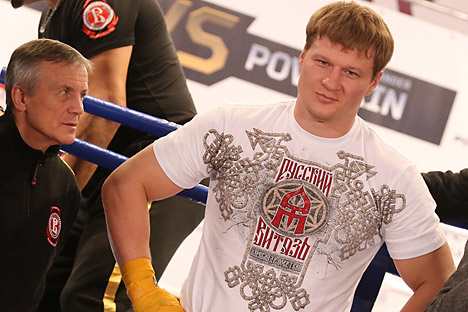 Russian boxer Alexander Povetkin.
Photoshot / Vostock Photo
Russian boxer was to have a fight with American Deontay Wilder on May 21
If a fight for the WBC heavyweight champion title between Russian boxer Alexander Povetkin, and U.S. boxer Deontay Wilder, is cancelled, the Russian boxer's team will take legal action, head of the World of Boxing promotion company Andrei Ryabinsky said.
"If it is decided to cancel the fight, then we plan to go to court. We will litigate everywhere, where one needs, in order to protect our position," Ryabinsky told reporters on May 16.
He said that Povetkin's team, and the World of Boxing promotion center, were involved in the Fair Boxing international program.
"We decided for ourselves to take part in the Fair Boxing program. I do not see any reasons to cancel the fight. I believe that it will be possible to hold it this year. I hope that our American colleagues, upon having the results of additional tests, and additional clean doping samples, will not yield to emotions and prefer to hold the fight on the previous terms," Ryabinsky said.
All rights reserved by Rossiyskaya Gazeta.