22 participants in Khovanskoye cemetery brawl put under 15-day arrest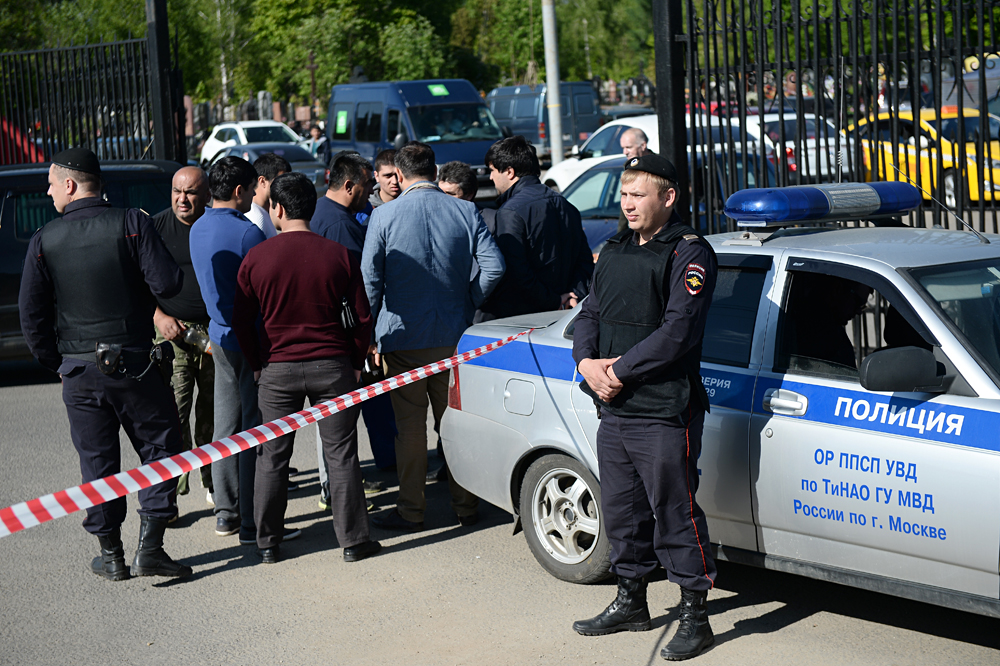 A mass brawl took place at the Khovanskoye cemetery on May 14.
Maksim Blinov/RIA Novosti
A mass brawl on May 14 had over 200 participants; it took 3 lives
The Moscow Shcherbinsky Court has imposed a 15-day administrative arrest on 22 men detained in connection with the mass brawl at the Khovanskoye cemetery, in which three people were killed, the court press service told Interfax on May 17.
"Administrative charges were brought against 22 persons. All of them were put under 15-day administrative arrest," court press secretary Svetlana Bekhtina said.
She said 12 persons were found guilty of petty hooliganism and another ten of petty hooliganism aggravated by disobedience to lawful demands of a person in authority.
It was reported earlier that the Moscow Presnensky Court ordered the arrest of 12 suspects in a criminal case opened after the cemetery altercation and that two of them had their detention period extended to 72 hours.
The court failed to arrest Yury Chabuyev, head of the third territorial division of the Ritual state burial service company, due to the insufficiency of materials provided by investigators. The period of his detention was extended to 72 hours, until May 18.
The detention period for one of the Yakhyayev brothers - Lecha - was also extended. He will be in custody until May 19.
A mass brawl took place at the Khovanskoye cemetery on May 14. According to the police, it had approximately 200 participants, mostly persons with origins in Central Asia and Russia's North Caucasus. The mass brawl took three lives and about 30 persons suffered injuries. Over a hundred people were detained. The tentative cause of the mass brawl is a conflict over Khovanskoye cemetery service areas.
Moscow detectives opened a criminal case on the counts of 'conspiracy to murder two persons or more', 'illegal storage of a weapon' and 'hooliganism'.
All rights reserved by Rossiyskaya Gazeta.