IAC completes inquiry into de Falcon plane crash at Vnukovo airport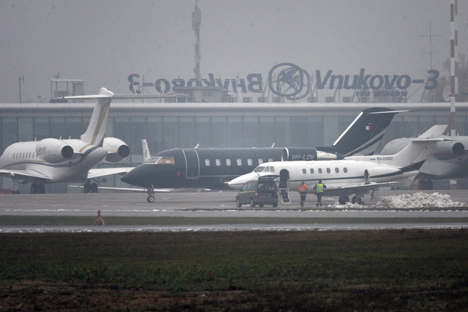 The Falcon business jet crashed at the Moscow's Vnukovo airport in 2014.
Maksim Blinov / RIA Novosti
The draft report forwarded to France and Netherlands
The commission of the Interstate Aviation Committee (IAC) has completed its investigation into the Falcon airplane crash in which Total company CEO Christophe de Margerie was killed.
"A draft final report has been prepared by the commission following this work," the IAC said on its website on May 17.
According to its report, the required amount of work was conducted during the investigation, including the field stage: the decoding and analysis of recordings from the onboard and ground-based objective control systems (including data from the tarmac overview and control subsystem and a mathematical simulation of the flight); the study of information about the training of specialists from the air traffic control service, the airport service and the crew, as well as information about their work and rest arrangements; analysis of the flight safety systems at the airport, the Vnukovo air traffic control center and the air carrier; the study of medical documents and the results of forensic examinations, as well as the study of the provided information about the airplane's technical maintenance and technical operations.
"In accordance with the standards of the International Civil Aviation Organization, the draft report has been forwarded to the authorized representatives - the Bureau of Inquiry and Analysis for Civil Aviation Safety of France and the Safety Board of the Netherlands. The aforementioned states took part in the investigation," it said.
The final report will be published on the IAC website after the states' commentaries are received and studied.
Overnight on October 21, 2014, the Falcon business jet, which was about to fly to Paris, crashed at the Moscow's Vnukovo airport as a result of a collision with a snowplough, which happened to be on the runway. Four French citizens who were on board, including three crewmembers and a passenger - CEO of the Total oil company Christophe de Margerie - died. Snowplow driver Vladimir Martynenko pleaded guilty.
All rights reserved by Rossiyskaya Gazeta.