Russia proposes U.S. to start joined airstrikes to eliminate armed groups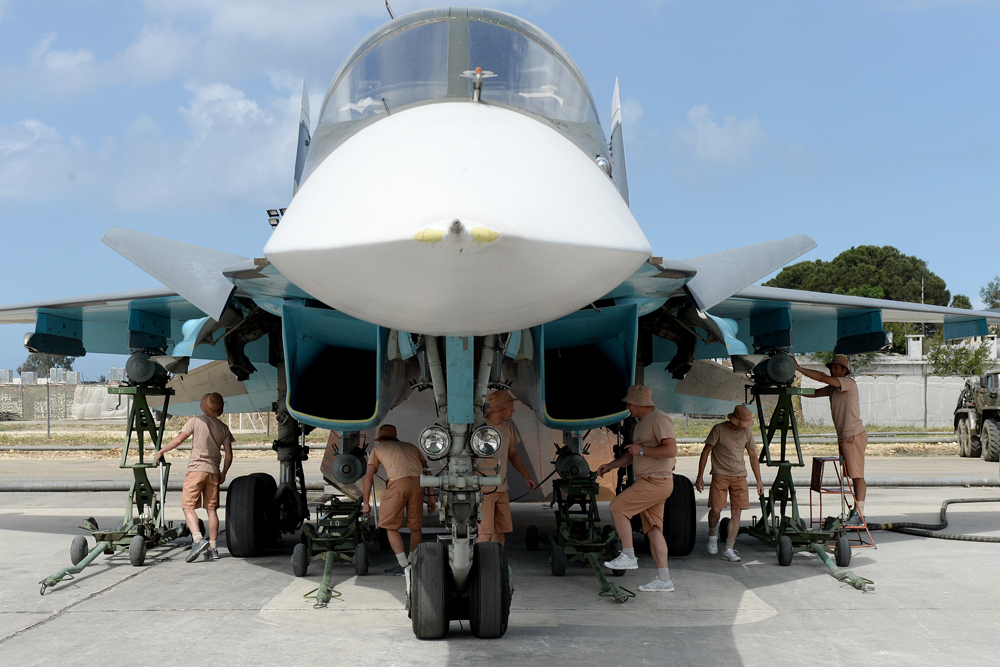 Russian servicemen prepare an Su-34 fighter jet for a mission from the Russian Khmeimim military base, May 4, 2016.
AFP/East News
Pentagon says it's not going to coordinate military operation with Russians
Russia has proposed the United States to start on May 25 acting jointly by the Russian Aerospace Forces and the aviation of the U.S.-led coalition to plan and strike Jabhat al-Nusra units and other armed groups that do not support the cessation of hostilities regime, Russian Defense Minister Sergei Shoigu said.
"On May 25, [we propose the U.S.-led coalition] to start joint actions by the Russian Aerospace Forces and the aviation of the U.S.-led coalition to plan and carry out strikes on units of Jabhat al-Nusra and the illegal armed groups that have not upheld the cessation of hostilities regime," Shoigu said, when speaking at the Defense Ministry board on May 20.
Meawhile, U.S. Defense Department spokeswoman Lt. Col. Michelle Baldanza told Interfax, that Pentagon still doesn't "collaborate or coordinate" its operation with Russians.
"We are not planning any operations with Russia to jointly liberate Raqqa from ISIS control. In Syria, our focus remains on equipping and enabling local, motivated forces who can take the fight to ISIS," Baldanza commented on the Shoigu's proposal.
"We note Russia's focus on attacking ISIS in Syria, following the implementation of the Cessation of Hostilities," she went on.
"And we are regularly discussing with Russia and other partners our efforts to continue to support the Cessation of Hostilities in Syria," she said.
However, Baldanza emphasized that "these are interagency conversations, not military-to-military discussions".
Baldanza also recalled that there is a Memorandum of Understanding in force between Russia and the U.S. to ensure safety of flights over Syria, which, in her view, "has worked effectively".
"Outside of the MOU, we have shared with the Russians rough geographic areas where coalition forces may be operating, and have advised them to remain clear of these areas. To date, they have honored this," Baldanza said.
All rights reserved by Rossiyskaya Gazeta.