Russia, India preparing agreement for Kundankulam 5 and 6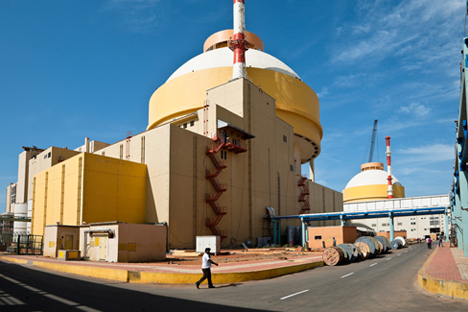 The Kudankulam Nuclear Power Plant (KNPP).
Press Photo
Rosastom's deputy CEO met India's nuclear chief to discuss the project.
Rosatom Deputy Chief Executive Nikolai Spassky and Chairman of the Indian Atomic Energy Commission Sekhar Basu discussed the preparation of a general framework agreement for the fifth and sixth units of the Kudankulam Nuclear Power Project (KNPP), Rosatom said on May 27.
"There is an understanding on the procedure for future steps. Working contacts will continue," the state corporation said.
KNPP's first unit is already functional, while the second unit should start generating electricity by the end of 2016. Russia and India signed an agreement for the 4th and 5th units in 2014.
All rights reserved by Rossiyskaya Gazeta.