Prosecutors seek $23,000 fine for Pavlensky for setting fire to FSB door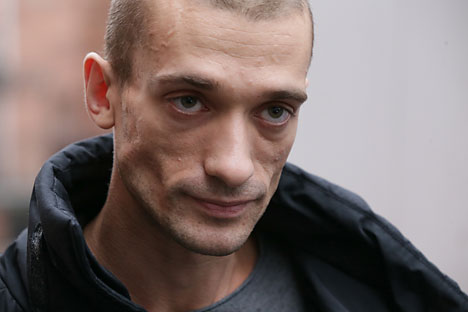 Performance artist Pavlensky charged with damaging cultural heritage object
State prosecutors are asking the court to give performance artist Pyotr Pavlensky a 1.5 million-ruble ($23,000) fine for setting fire to the door of the Federal Security Service (FSB) building at Lubyanka.
The prosecutor said so during the presentation of cases in the Moscow Meshchansky Court on June 6, an Interfax correspondent said.
The state prosecutor said Pavlensky's guilt of damaging a cultural heritage object is confirmed by the evidence collected in the case.
Pavlensky is charged with damaging a cultural heritage object.
Pavlensky was detained in the Central district of Moscow in November 2015 after he set fire to the door of the building of the Russian Federal Security Service in the presence of journalists. The lawyer for the artist called the act a reaction to "vital issues of Russian society." Pavlensky said his action 'Threat' should be regarded "as a gesture in the face of terrorism."
According to interrogation officers, Pavlensky consciously chose the door to the historical building of the United State Political Directorate of the People's Commissariat for Internal Affairs (OGPU NKVD) of the USSR, where "prominent scientists and culture figures were kept under arrest in the years of repression" as an object for his actions on November 9, 2015. The door damaged by the fire was an element of the historical building reconstructed in 2008. It lost its value as a result of the artist's actions and is not subject to restoration.
On May 19, the magistrate of St. Petersburg's Judicial District 199 in a session held in the Moscow Preobrazhensky Court found Pavlensky guilty of vandalism and sentenced him to one year and four months in jail. The defendant was then exempted from the punishment due to the expiration of the statute of limitations. The defense lawyers for the artist contested the sentence.
Pavlensky is known for a series of 'performances' mainly involving self-torture.
All rights reserved by Rossiyskaya Gazeta.