Courts ban work of 71 radical organizations in Russia over past 10 years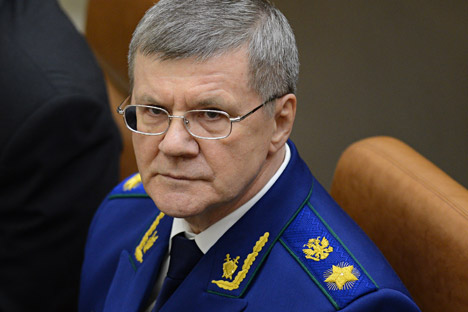 Yury Chaika, Prosecutor General of the Russian Federation.
Vladimir Astapkovich/RIA Novosti
Russian Prosecutor General holds a 'government hour' meeting in State Duma
Over 70 organizations were recognized as extremist thanks to efforts made by Russia's law enforcement and judicial agencies in the country over the past ten years, Russian Prosecutor General Yury Chaika said.
"A ban on radical organizations and their groups plays a significant role in the prevention of extremism and terrorism. A lot of work is being done on that by the Prosecutor General's Office in cooperation with the Federal Security Service and the Interior Ministry, the Justice Ministry, and judicial bodies," Chaika told a 'government hour' meeting in the State Duma on June 8.
"The work of a total of 71 organizations promoting radical ideas was banned by courts in the past ten years, including in connection with the recognition of 47 of these organizations as extremist and 24 as terrorist," Chaika said.
He said, citing prosecutors' statements made in 2015, that nine organizations were recognized by courts as extremist and one as terrorist.
Chaika also said that the Prosecutor General's Office made a decision in 2015 to recognize five foreign public associations "posing a threat to the foundations of the constitutional system" as unwelcome in the territory of Russia.
All rights reserved by Rossiyskaya Gazeta.