Russia extends food counter-sanctions until end of 2017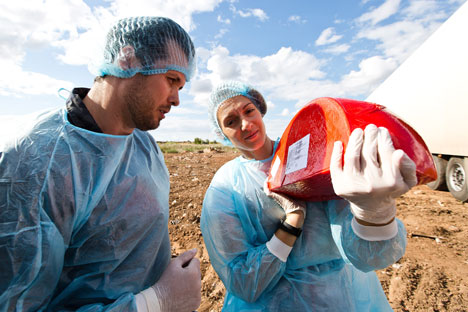 Rospotrebnadzor officials dump illegally imported cheese into a landfill near the village of Podgorodnyaya Prokrovka, the cheese will be destroyed, August 2015.
Sergei Medvedev / TASS
Russian president signs the relevant decree on June 29
Russian President Vladimir Putin has extended the food embargo against the countries, which imposed sanctions against Russia, until the end of 2017.
"To extend, from August 6, 2016, to December 31, 2017, the effect of certain special economic measures envisaged by the Russian presidential decree N560 of August 6, 2014, 'On the application of certain special economic measures aimed at providing Russian security' and extended by the Russian presidential decree N320 of June 24, 2015," according to the Russian head of state's decree published on the official legal news website.
The same decree also instructs the government to see to the implementation of this document within the limits of its competence.
The Cabinet will also have powers to make proposals, where necessary, to change the validity period of these economic measures.
The Agriculture Ministry has confirmed plans to extend the sanctions but not the list of the agricultural and food products falling under the sanctions.
"This is excellent news for domestic agricultural producers. It allows us to plan investments in the industry and raise the quality and competitiveness of Russian food products," Agriculture Minister Alexander Tkachyov said in late May, commenting on the decision to extend the sanctions.
All rights reserved by Rossiyskaya Gazeta.