Russia's Defense Ministry signs contract for 3rd Tu-214R plane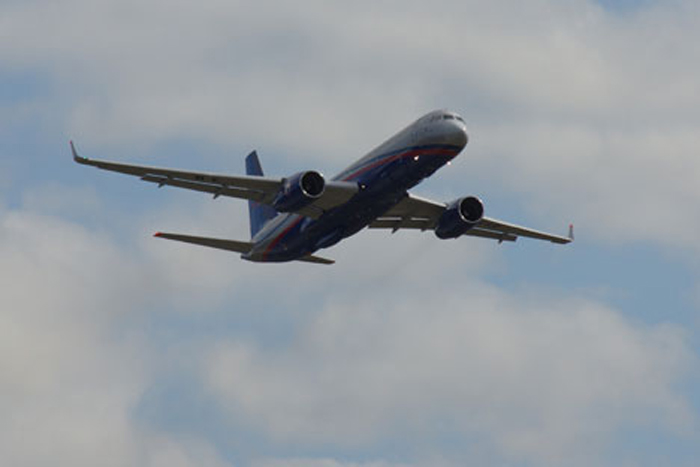 This electronic and optical intelligence aircraft based on the Tu-214 plane
The Gorbunov Aircraft Plant in Kazan in the Volga area has signed a contract with Russia's Defense Ministry to manufacture the third Tupolev Tu-214R electronic and optical intelligence aircraft, the online media organization Real Time said.
The Gorbunov Aircraft Plant is an affiliate of the Tupolev Company.
"A meeting chaired by President of Russia's United Aircraft-Manufacturing Corporation Yuri Slyusar was held on June 29 at the Gorbunov Aircraft Plant," the media source said.
"The participants in the meeting discussed the implementation of projects designed to reconstruct and re-equip the Gorbunov Aircraft Plant and other enterprises within the United Aircraft-Manufacturing Corporation, the production of the Tu-214 special plane, as well as the repair and upgrade of the Tu-22M3 [NATO reporting name: Backfire-C] and Tu-160M [Blackjack] strategic aircraft," the media source added.
During a visit of Corporation President Yuri Slyusar to Kazan, the ceremony of awarding workers who had provided maintenance for the Tu-214R, Tu-22M3 and Tu-160 planes involved in the anti-terror operation in Syria was held. In all, 17 persons were awarded.
As Slyusar said, the Tu-214R plane has met the expectations of Russian servicemen.
The Tu-214 plane has a maximum takeoff weight of 110.7 tons, a length of 46.1 meters, a cruising speed of 830-850 km/h (516-528 mph) and an operational flight range of about 7,000 kilometers (4,349 miles).
The plane can be furnished with additional fuel tanks to perform flights within a distance of up to 10,000 kilometers (6,214 miles).
The Tu-214 aircraft is powered by two PS-90A turbofan engines.
Source: Tass.com
All rights reserved by Rossiyskaya Gazeta.