Russian sports minister sends letter to WADA on national anti-doping fight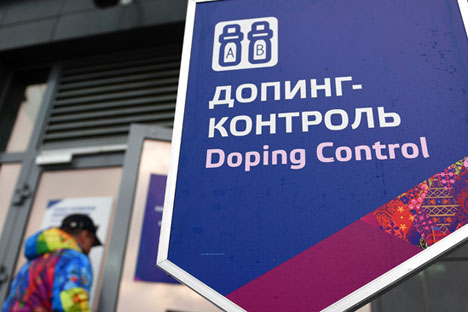 The Doping Control Station in the Laura Biathlon Center during the Sochi 2014 Olympic Games in Krasnaya Polyana, Russia.
EPA
Vitaly Mutko says he is open for the implementation of WADA recommendations
Russian Sports Minister Vitaly Mutko sent a letter to the World Anti-Doping Agency (WADA) informing the agency about the current situation in the sphere of anti-doping fight in sports, a senior sports official told TASS on Wednesday, July 6.
"The letter to WADA was sent on Tuesday," Natalia Zhelanova, an advisor to the Russian sports minister on anti-doping issues, said in an interview with TASS.
Sports Minister Mutko wrote in his letter to WADA: "Russia understands that doping problems in the country have deep roots and they cannot be eradicated within a short period of time. It takes decades for cultural changes to take place and some athletes will carry on with their attempts to cheat on regulations in order to achieve unfair victories and derive enrichment."
However, according to Mutko, these are rather instances of a personal nature and they should not be reflected on the sports in general, on clean athletes and anti-doping activities, which the government carries out in line with the UNESCO Convention.
The Russian sports minister concluded his letter by saying that he was open for the dialogue and implementation of further recommendations from WADA.
Russian athletes and sports officials have been in the center of doping-related scandals for over a year and half already. Starting this year doping control in Russian sports has been exercised by the Russian Anti-Doping Agency (RUSADA) strictly under the supervision of the British anti-doping agency (UKAD).
WADA's Independent Commission published on November 9 last year results of its probe into the activity of the All-Russia Athletics Federation (ARAF), the Moscow anti-doping laboratory, the RUSADA and the Russian Sports Ministry.
The commission accused certain athletes and sports officials of doping abuse and involvement in other activities related to violations of international regulations on performance enhancing substances.
RUSADA and the Moscow anti-doping laboratory subsequently suspended their activities, while WADA's Board of Founders approved the finding of the agency's Independent Commission that RUSADA did not comply with the Code of the international anti-doping organization.
Source: Tass.com
All rights reserved by Rossiyskaya Gazeta.