Russian Eastern Military District snipers learning to neutralize UAVs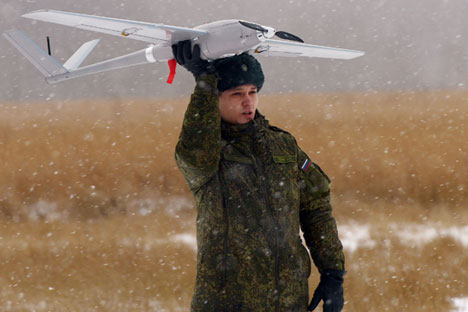 A cadet of the Defence Ministry's State Center of Unmanned Aviation during the launch of the Orlan-10 unmanned aerial vehicle at a training field in the Moscow Region.
RIA Novosti/Evgeny Biyatov
The program includes tasks to detect small targets within a specified time
Snipers of Russia's Eastern Military District have started learning to neutralize unmanned aerial vehicles (UAVs), district spokesman Alexander Gordeyev told TASS.
More than 100 persons who underwent special training under an updated program have already passed examinations, the spokesman added.
"The updated program includes game training methods, in particular, sniper duels and tasks to detect and neutralize small targets simulating unmanned aerial vehicles within a specified time," Gordeyev said.
"The exercise designed to practice neutralizing unmanned aerial vehicles has been included in the program for the first time," he added.
During the three month-long training course, the troops studied sniper tactics, reconnaissance, camouflaging in various types of terrain and complex weather conditions, military land navigation and medical aid, the spokesman added.
Source: Tass.com
All rights reserved by Rossiyskaya Gazeta.