Russian footballer apologies for notorious champaign party at Monaco club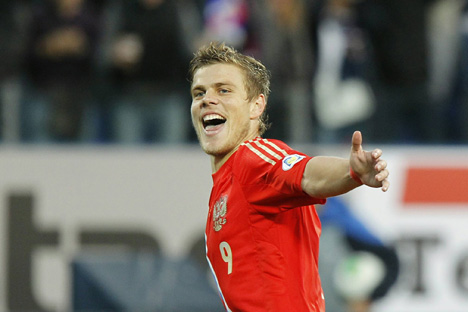 Kokorin says his further fate depended on decision of Zenit's management
Russian national football team and FC Zenit forward Alexander Kokorin apologized on July 8 for the notorious party at a luxury night club in Monaco, which he had visited together with another national team footballer Pavel Mamaev.
Life.ru news portal reported on July 7 that Kokorin and Mamaev were partying at Twiga club and ordered some 500 bottles of Armand de Brignac champagne costing 500 euros each, with the total bill reaching 250,000 euros. Life.ru quoted an eyewitness as saying that champagne was served while the Russian national anthem was playing and the party was accompanied with a fireworks display.
Kokorin told TASS that he and his teammate Mamaev had nothing to do with paying for the party.
Kokorin was disciplined with his transfer to Zenit's second team while Mamaev who plays for FC Krasnodar was transferred to the club's youth squad. Both footballers will be also fined.
"Unfortunately, I permitted a situation, due to which such a scandal erupted. I would like to make an apology. Without finding excuses, I would like to say that I have nothing to do with that champaign and those sums and, importantly, nothing to do with the situation that the Russian anthem was played. I feel stressed that we have performed so poorly in France and I'm not relieving myself of the responsibility for that," the footballer told journalists.
"We had absolutely nothing to celebrate and we became hostage to the situation that we spontaneously came to that club," Kokorin said.
The footballer said his further fate depended on a decision of the club's management.
"Perhaps, it was right to convene our small press conference. I'll be preparing [for matches] in Zenit-2 [Zenit's second team performing in the second-level Football National League] and will receive further instructions from the management. I had a talk with the Zenit directors. I'll be fined but I don't know for how much," the footballer said.
"It is normal to discuss the failures [of the national football team]. People of the country with the multi-million population waited for the results but failed to see them and so they have the right to show their indignation," the footballer said.
The incident with Kokorin and Mamaev received a public outcry particularly after the national team's poor performance at the 2016 UEFA Euro Cup in France last month.
Source: Tass.com
All rights reserved by Rossiyskaya Gazeta.