Ban Ki-moon invites Putin to climate agreement ratification ceremony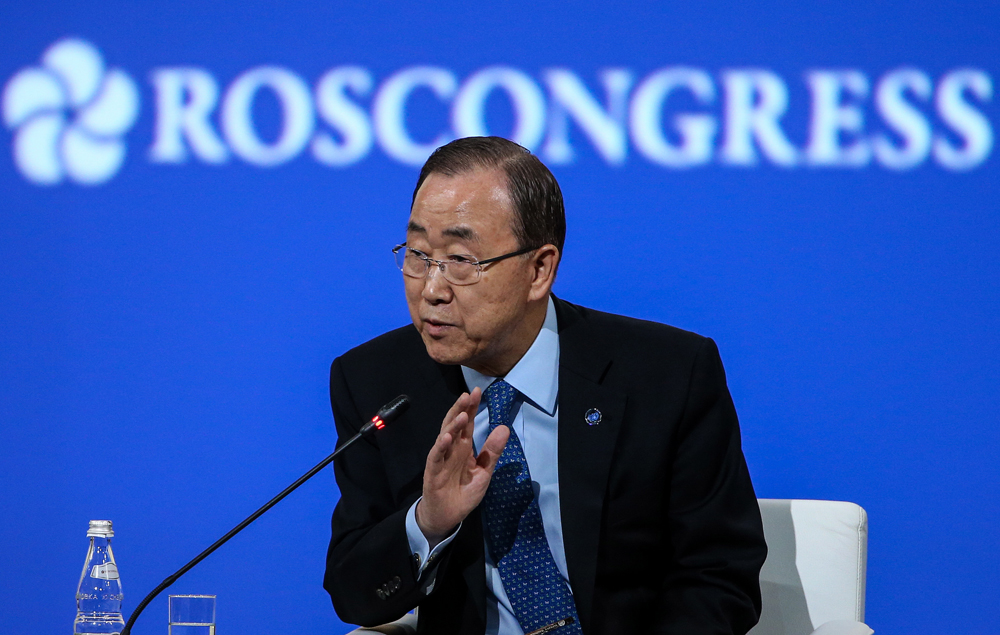 United Nations Secretary General Ban Ki-moon speaks at the opening of the 2016 St. Petersburg International Economic Forum, June 16, 2016.
Valery Sharifulin/TASS
The special event will be held in New York on September 21
UN Secretary General Ban Ki-moon has invited Russian President Vladimir Putin at a special event for Paris climate agreement ratification that will be held in New York on September 21, Russia's Permanent Representative to the UN Vitaly Churkin told TASS on July 21.
"Indeed, today (Tuesday) we have received such an invitation. We report it to Moscow", the diplomat said.
Earlier, UN Secretary-General's Deputy Spokesperson Farhan Haq told reporters that Ban Ki-moon invited the world leaders to a special event at the United Nations headquarters on September 21, "to deposit their instruments of ratification, acceptance, approval or accession to the Paris Agreement on climate change. The event will provide an opportunity to other Parties to publicly commit to joining or ratifying the agreement before the end of the year. It is expected that the September event will help efforts to secure early entry into force of the agreement." According to him, those countries that won't be able to do so, would be able to take a commitment "to ratify the agreement before the end of 2016".
At the Paris climate conference (COP21) in December 2015, 195 countries adopted the first-ever universal, legally binding global climate deal. The climate change agreement was adopted in December on the results of the Paris conference. The Paris Agreement was signed by 175 parties (174 countries and the European Union), including Russia, Germany, India, China and the United States at the UN headquarters on 22 April, 2016, 'International Mother Earth Day'. A historic figure that goes beyond the previous record of 119 signatures on an opening day for the signing of an international agreement, previously held by the United Nations Convention on the Law of the Sea, signed in Montego Bay in 1982.
The agreement sets out a global action plan to put the world on track to avoid dangerous climate change by limiting global warming to well below 2°C.
Source: Tass.com
All rights reserved by Rossiyskaya Gazeta.