Turkish official: It was pilot's personal decision to down Russian jet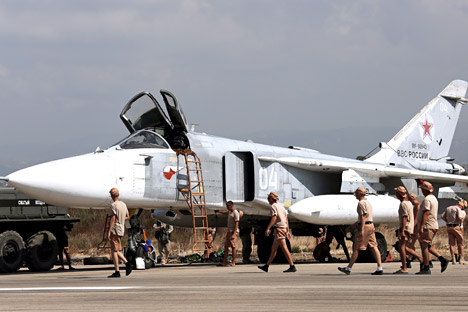 Russia's Sukhoi Su-24 attack aircraft at the Hmeymim airbase.
TASS
Turkey's warplane downed Russian Su-24 in Syria on November 24
The decision to gun down the Russian warplane returning from an anti-terrorist mission in Syria in November 2015 was taken by the Turkish pilot personally, Turkey's Deputy Prime Minister Mehmet Simsek told journalists on July 26.
"The decision was taken personally by the pilot," he said, adding that the decision stemmed from the existing rules under which the right to react is delegated to the military.
"Turkey has no hostile feelings to Russia, and will never have," he underscored.
Turkey's warplane downed a Russian bomber in Syria that was on its way back from an anti-terrorist mission on November 24. Turkey said the plane had violated the Turkish airspace. The Russian Defense Ministry however claims that the Su-24 was gunned down over Syria. The crew managed to eject itself. One pilot was shot dead by fire opened from the ground. The second pilot was saved and taken to the Hmeimim airbase in Syria.
Source: Tass.com
All rights reserved by Rossiyskaya Gazeta.