Russia plans system to monitor U.S. compliance with New START Treaty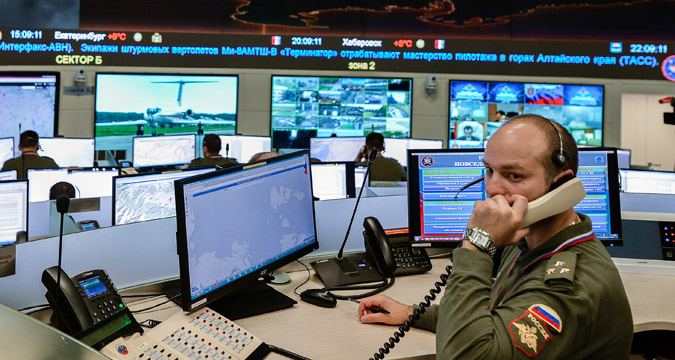 Photo: Russian Defense Ministry officers at the National Defense Management Center in Moscow.
Alexander Vilf/RIA Novosti
Defense Ministry announces tender on governmental acquisition website
The Russian Defense Ministry has issued requests for proposals for a system designed to monitor the compliance of the United States with the provisions of the Strategic Arms Reduction Treaty (New START Treaty). The terms of the tender have been published on the governmental acquisition website.
The Defense Ministry has uploaded the documents covering the terms of the competition that stipulates "the development work 'Development of the Situation Complex for Working Out Reasoned Decisions for Filing Complaints about Violations of the Strategic Arms Reduction Treaty (the System's Codename: Paritet) for the Russian Defense Ministry."
The military expects to get the advanced monitoring system before October 20, 2018, with the value of the contract estimated at 72.13 million rubles ($1 million).
It stems from the documents on the government acquisition website that the monitoring system will be based on a laptop computer and a printer. The system is to comprise the functions of "monitoring the objects under observation equipped with onboard transmitters, process the data, conduct comprehensive assessments of the situation during the testing and operational provision of the verification parameters of the U.S. ballistic missiles under observation."
The New START Treaty was signed by the Russian and US presidents in Prague on April 8, 2010 and took effect after its ratification by the Russian State Duma and the U.S. Congress on February 5, 2011. The treaty provides for the signatories to reduce their deployed strategic delivery means down to 700 and their nuclear warheads down to 1,550. The terms of the treaty is 10 years.
Source: Tass.com
Subscribe to get the hand picked best stories every week
All rights reserved by Rossiyskaya Gazeta.