Kremlin: No threats can affect Russia's policy to combat terrorism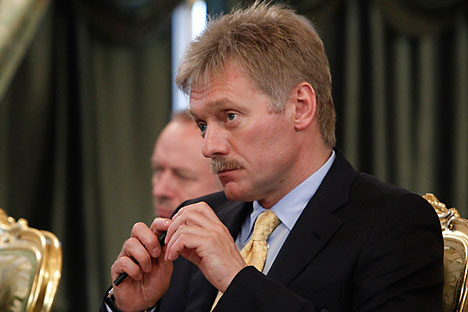 Kremlin press secretary Dmitry Peskov.
Reuters
Peskov comments on reports concerning a video threatening attacks in Russia
Extremists' threats against Russia published in the media will not affect the policy of fighting against terrorism pursued by the Russian authorities, Russian presidential spokesman Dmitry Peskov told reporters on August 1.
"Such threats cannot affect in any way the policy pursued by Russia and President (Vladimir) Putin in the fight against international terrorism, which, of course, will continue in all directions," he added.
Peskov was asked to comment on media reports concerning a YouTube video featuring a gunman threatening terrorist attacks in Russia. The video's authenticity has not been confirmed yet.
"Of course, we read such publications carefully. Our special services in charge of the anti-terror work and security issues take them into account," he said. "All necessary steps are certainly taken by the Russian Defense Ministry during the operation of the Russian aerospace forces in Syria."
According to the Kremlin spokesman , "the president gets regular reports on this." He added that "the security issue is frequently raised during the president's contacts with the heads of the defense and law enforcement agencies."
Peskov said though that one should not overestimate the significance of such statements.
"Probably, we should not exaggerate the importance of such video clips," he said. "Of course, terrorist groups, as the fight against them is intensifying and as they get cornered, use the intimidation tactics", Peskov said. "This threat should not be exaggerated."
Source: Tass.com
All rights reserved by Rossiyskaya Gazeta.