No comment from Kremlin on U.S. plans for making upgraded nuclear bomb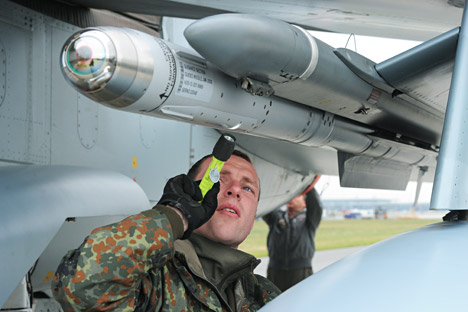 The B61-12 bombs are made for the Tornado fighter jets.
DPA/Vostock-Photo
'That's a competence of the Defense Ministry,' Dmitry Peskov says
Russian presidential spokesman Dmitry Peskov has refrained from comments regarding reports the United States is getting ready for the production of an upgraded nuclear bomb.
"That's a competence of the Defense Ministry. It is up to specialists to present their evaluations," he said.
Earlier, the United States' National Nuclear Security Administration authorized the beginning of technical preparations for the production of the upgraded nuclear bomb B61-12.
The final tests of the B61-12 bomb took place at the Tonopah test site, Nevada, on October 20, 2015 with the use of the F-15E fighter bomber. According to the NNSA the systems of the bomb dropped from the plane "performed successfully in a realistic guided flight environment." Initial indications revealed that "all scheduled activities occurred successfully and that telemetry, tracking and video data were properly collected," the NNSA said.
The B61 bomb has four different configurations (B61-3, -4, -7, and 10). Under the current upgrade program they are to be replaced by B61-12. In contrast to its predecessors, B61-12 has no parachute. Its guided tail kit assembly enhances accuracy.
The project is part of the Obama Administration's policy of upgrading the nuclear force. According to the Pentagon, the policy will require an estimated $350 billion to $450 over ten years to come.
Source: Tass.com
All rights reserved by Rossiyskaya Gazeta.