Putin congratulates Obama on 55th birthday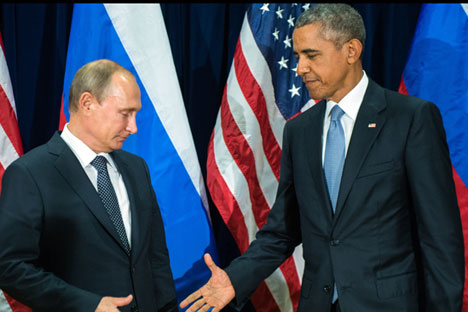 Vladimir Putin and Barack Obama shake hands before the start of a bilateral meeting at the United Nations headquarters in New York City, September 28, 2015.
EPA
U.S. President Barack Obama turns 55
Russian President Vladimir Putin has sent a greetings telegram to U.S. President Barack Obama on the occasion of his 55th birthday but no telephone conversation is scheduled between the leaders for the time being, press secretary of the Russian President Dmitry Peskov told TASS on August 4.
"Yes, the President sent the greeting message. No telephone conversation is in the schedule for the time being," Peskov said.
The last telephone conversation between presidents of Russia and the United States took place on July 6. The presidents discussed the situation in Syria, Ukraine, and Nagorno-Karabakh.
Source: Tass.com
All rights reserved by Rossiyskaya Gazeta.