Russian football team heads off to Turkey for friendly match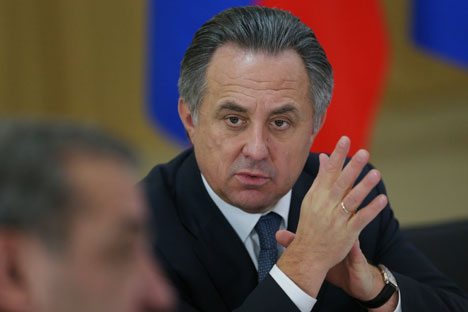 Russian Sports Minister Vitaly Mutko
RG
The game could take place on Aug. 31
The Russian national football team is set to play an away friendly match against the national squad of Turkey, Russian Sports Minister Vitaly Mutko said on Aug. 5.
"Considering the fact that Europe gears up for the qualification round ahead of the (2018) World Cup, we decided to meet their requests," Mutko, who is also the president of the Russian Football Union (RFU), told journalists. "Turkey is scheduled to play (World Cup qualifying) road game against Croatia."
"They would not come if we invited them, since they are training for an official match," Mutko said. "They are inviting us to play on their turf and I believe we will go because this is the right thing to do."
Last week the Turkish Football Federation (TFF) confirmed to TASS that it was holding talks with the RFU on the organization of a friendly match between the two national teams.
TFF spokesman Turker Tozar noted it was impossible to say at that moment when and where the game would be held.
The news about the possible football friendly football match between Russia and Turkey was first brought up on July 28 by the Milliyet online daily. According to the daily, the game would take place on Aug. 31. Turkish President Recep Tayyip Erdogan is expected to invite Russian leader Vladimir Putin to attend the game during their meeting in St. Petersburg, scheduled for Aug. 9.
The daily also reported that the match was aimed at restoring relations between the two countries.
Source: Tass.com
All rights reserved by Rossiyskaya Gazeta.