Brazilians sorry Russia's Isinbaeva misses Rio 2016 Olympic Games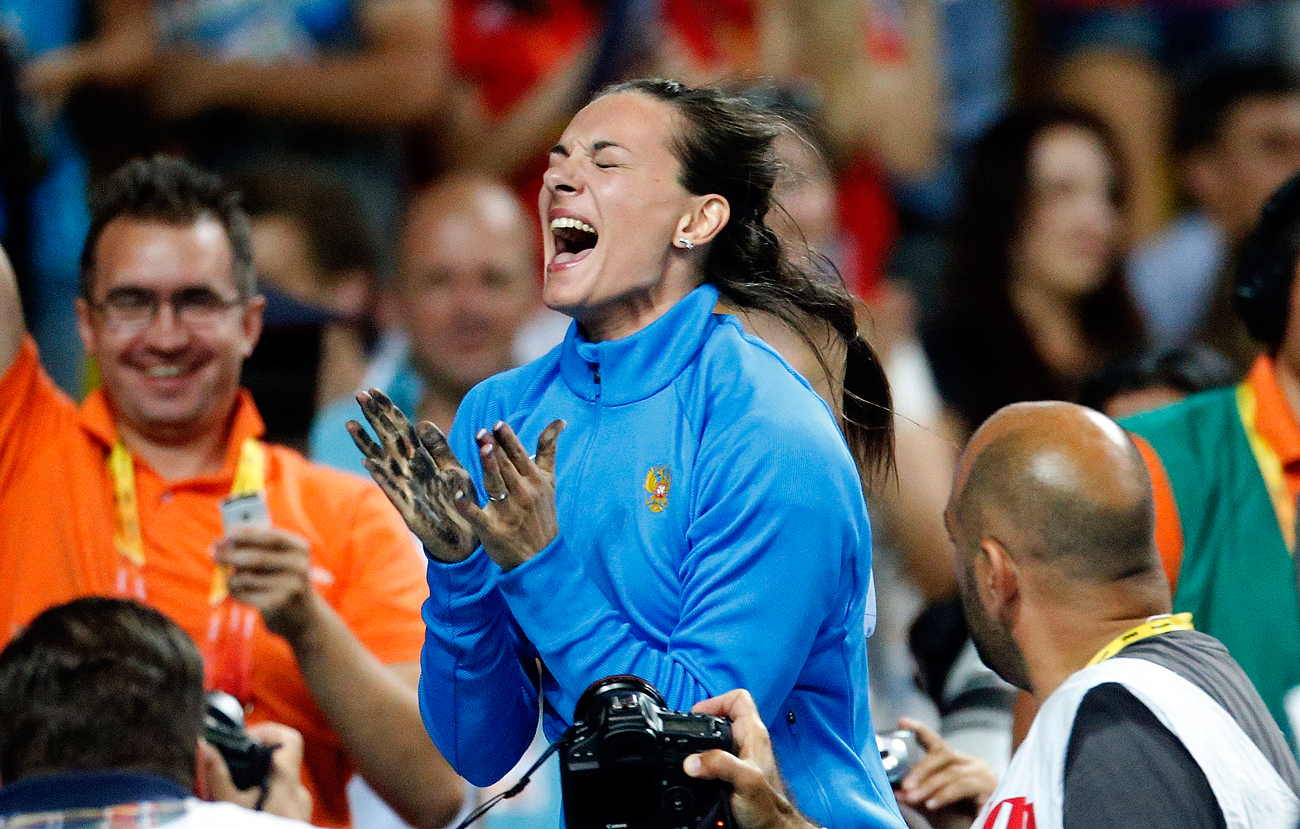 Russia's Yelena Isinbayeva celebrates winning the gold medal in the women's pole vault final at the World Athletics Championships in the Luzhniki stadium in Moscow.
AP
Brazilians have been waiting to welcome two-time Olympic gold medalist
Brazilians have been waiting to welcome two-time Olympic gold medalist, pole vaulter Yelena Isinbaeva and are truly sorry the outstanding athlete will miss the Games in 2016, locals told TASS in Rio de Janeiro.
All Russian athletes were not allowed to the Olympic Games in Rio de Janeiro as the national federation was disqualified. The only exception was made for long jumper Daria Klishina, who lives and trains abroad. Isinbaeva, who is 34 now, planned the 2016 Games would be final in her sports career.
Brazilians will sing Hallelujah to Isinbaeva
"I love athletics, in childhood I was a runner," a taxi officer Joao Rodrigues da Silva told TASS. "Many here know who Yelena Isinbaeva is, as she is a world star. If a miracle happens, and she is allowed to the Olympic Games, we shall sing Hallelujah to her."
Maria Filipe Gomes of an advertising company in Rio de Janeiro said the famous Russian athlete looks much like a Brazilian. "Brazilians love Isinbaeva and hoped a lot to see her in Rio as she is an outstanding athlete," she said. "Besides, we like it she looks much like a Brazilian - she has long dark hair and is very joyful. I am sorry this is what happened to her and to other Russian athletes, but life is so unfair. Please, tell Isinbaeva we here in Brazil are praying for her."
Russia's Consul General in Rio de Janeiro Vladimir Tokmakov also confirmed to TASS Isinbaeva is very popular in Brazil. "Very many have been asking me whether she will be competing in Brazil and get very disappointed learning she would not," he said. "Isinbaeva is well known to Brazilians."
On Aug. 5, Russia's legendary pole vaulter Yelena Isinbaeva told TASS she was likely to put forward her candidacy for the post of the president of the All-Russia Athletics Federation (ARAF). "It is certainly still early to speak about such issue as me in charge of ARAF," Isinbaeva said in an interview with TASS. "However, I do think about running for the post of the ARAF president." Russian Sports Minister Vitaly Mutko said earlier in the day that the new ARAF president would be elected next month.
ARAF was in the center of numerous doping scandals since last year and in November 2015 the International Association of Athletics Federations (IAAF) ruled to suspend the membership of the Russian body, thus closing the doors to all national track and field athletes to participation in all international competitions, including the 2016 Summer Olympics.
Isinbaeva, a triple world champion (2005, 2007 and 2013) having set a total of 28 world records, is currently considered the greatest female pole-vaulter of all time.
She was the first woman ever to clear the five-meter height jump having achieved the result in 2005. Her current outdoor record of 5.06 meters, set in August of 2009 in Zurich, remains unsurpassed. Her indoor world record of 5.01 meters, set in Stockholm in February 2012, remained unbeaten for over a year, when in March of 2013 U.S. pole-vaulter, Jenn Suhr broke it with a 5.02-meter record to become the second female athlete to ever clear the five-meter mark.
The IAAF named Isinbaeva the Female Athlete of the Year in 2004, 2005 and 2008. In all, she has been champion on nine major occasions, which include champion titles at the Olympics, World Outdoor and Indoor, as well as European Outdoor and Indoor competitions.
Source: Tass.com
All rights reserved by Rossiyskaya Gazeta.