FSB accuses Ukraine of attempting terrorist attacks in Crimea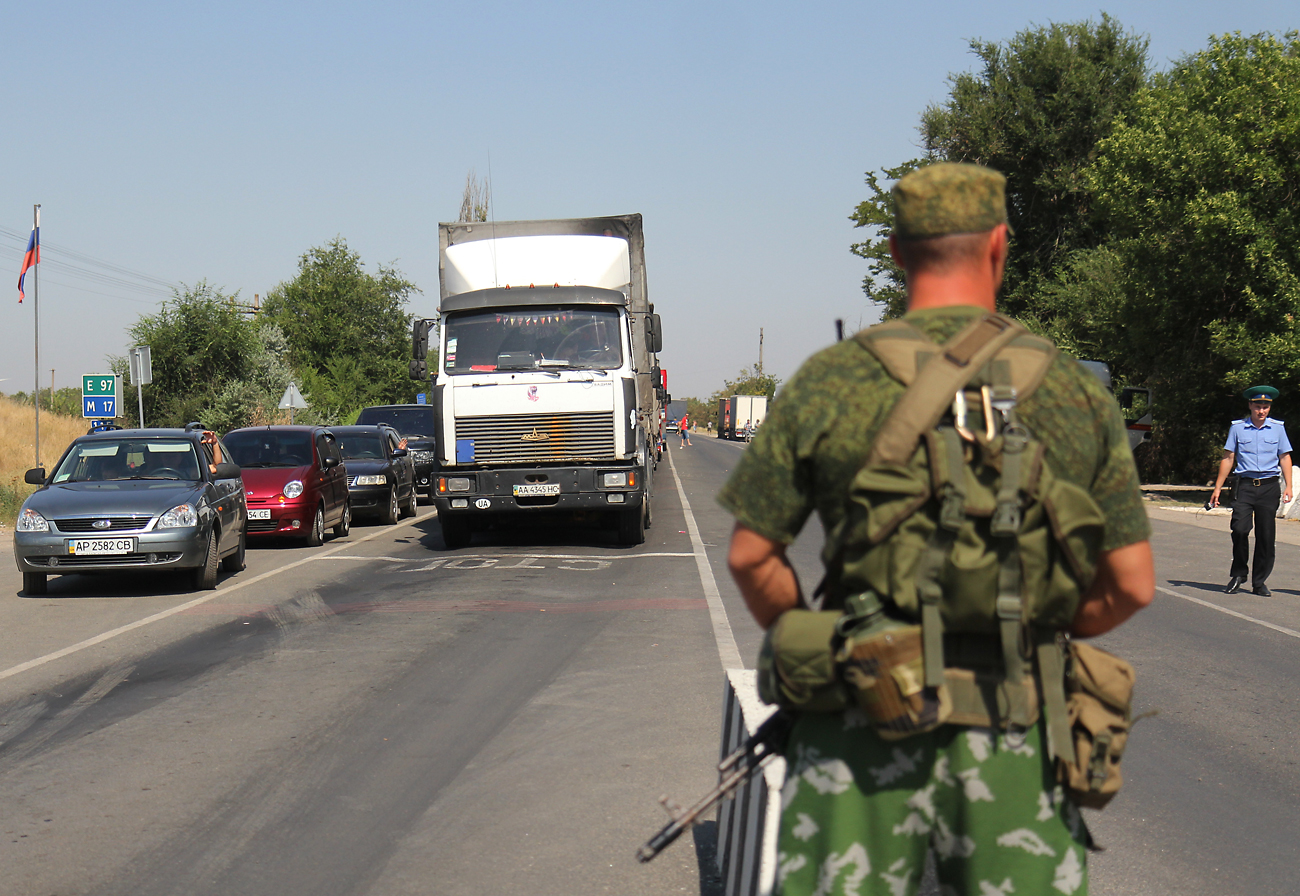 Vehicles standing in queue at the checkpoint "Armyansk", at the Ukraine-Russia border.
Andrey Iglov/RIA Novosti
Russia claims Ukrainian Defense Ministry behind attack preparation.
The Russian Federal Security Service (FSB) has said it has prevented terrorist attacks in Crimea that it alleges were prepared by the Ukrainian Defense Ministry's main intelligence directorate.
"A group of saboteurs was spotted in the early hours of Aug. 7 near the city of Armyansk (the Republic of Crimea) thanks to investigative work," the FSB said on its website. "An FSB officer was killed in a skirmish when the terrorists were being detained," said the statement (in Russian).
"Twenty improvised explosive devices containing more than 40 kilograms of TNT equivalent, ammunition, fuses, antipersonnel and magnetic bombs, grenades and the Ukrainian armed forces' standard special weapons were found at the scene," said the FSB website.
The FSB noted that "an intelligence network of the Ukrainian Defense Ministry's main intelligence directorate has been eliminated thanks to measures taken on the Crimean Peninsula."
"Ukrainian and Russian citizens who provided assistance in preparing the terrorist attacks have been detained. They are giving a confession," it added.
The FSB said that one of the organizers of the prevented terrorist attacks was Yevgeny Panov, a 39-year old resident of Ukraine's Zaporozhye Region who was an employee of the Ukrainian Defense Ministry's main intelligence directorate. He was also detained.
Meanwhile, a spokesman for the Ukrainian Defense Ministry denied the FSB's report that Ukraine's special forces had attempted an armed incursion into Crimea's territory, Reuters reported on Aug. 10.
"This is fake information," Reuters quotes him as saying. The press service of the Ukrainian Defense Ministry declined to respond to a request from TASS for comment.
Source: Tass.com
Subscribe to get the hand picked best stories every week
All rights reserved by Rossiyskaya Gazeta.