Russia strikes ISIS with long-range aviation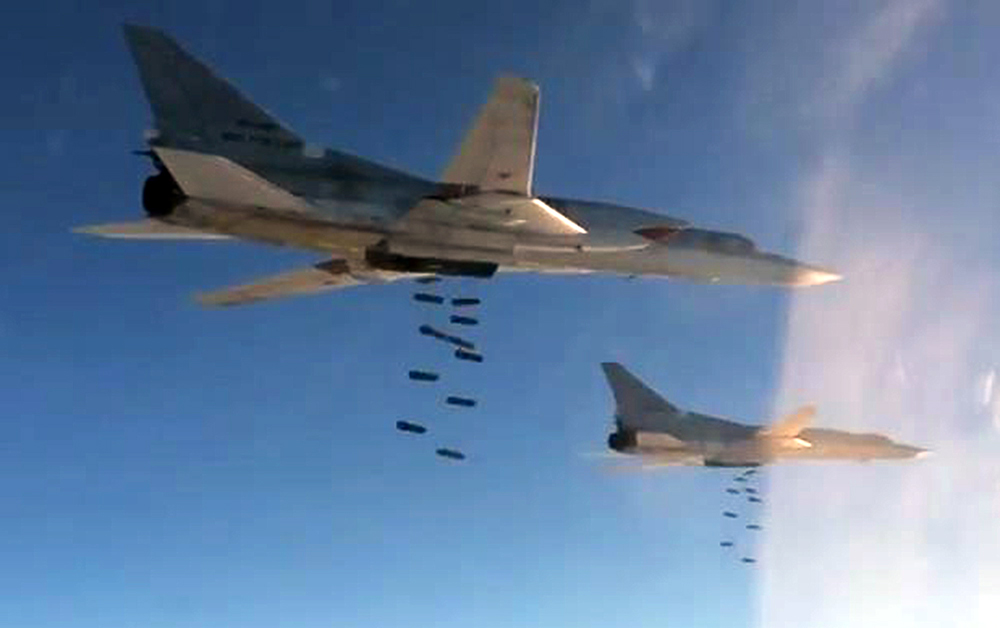 Russian long-range aviation carries out air strikes against ISIS targets in Syria.
Russian Defence Ministry's Press and Information Department/TASS
The raid makes the third time Russia used long-range aviation to bomb ISIS in Aug. 2016.
Russia's six Tupolev Tu-22M3 bombers have delivered a strike on facilities of the Islamic State organization (ISIS), terrorist organization outlawed in Russia, near Syria's Deir ez-Zor, the Russian Defense Ministry reported on Aug. 14.
"On Aug. 14, 2016, six Tu-22M3 long-range bombers, which took off from a base aerodrome on the territory of the Russian Federation, delivered a precision strike with high-explosive ammunition on facilities of the Islamic State terrorist group in areas to south-west, east and north-east of the city of Deir ez-Zor," the ministry said in a statement.
The strikes destroyed two command centers of the militants, six big ammunition depots, two tanks and four IFVs, seven off-road vehicles with high-caliber equipment, as well as many militants.
The fighter-air cover for Tu-22M3 was provided by Sukhoi Su-30SM and Su-35S, based at the Hmeymim aerodrome, the statement said.
"After the successful mission, all Russian aircraft returned to their base aerodromes," the ministry said.
This was the third anti-terrorist flight mission the Russian long-range aviation delivered in Syria in Aug. 2016.
On Aug. 8, Tu-22M3 attacked facilities of the ISIS near Palmyra; on Aug. 11 the bombers delivered strikes south-east, north and north-west of Raqqa.
Prior to that, Russian long-range bombers were used in Syria on July 12, 14, and 21.
Source: Tass.com
Subscribe to get the hand picked best stories every week
All rights reserved by Rossiyskaya Gazeta.