Defense Ministry ready to support 48-hour 'humanitarian pauses' in Aleppo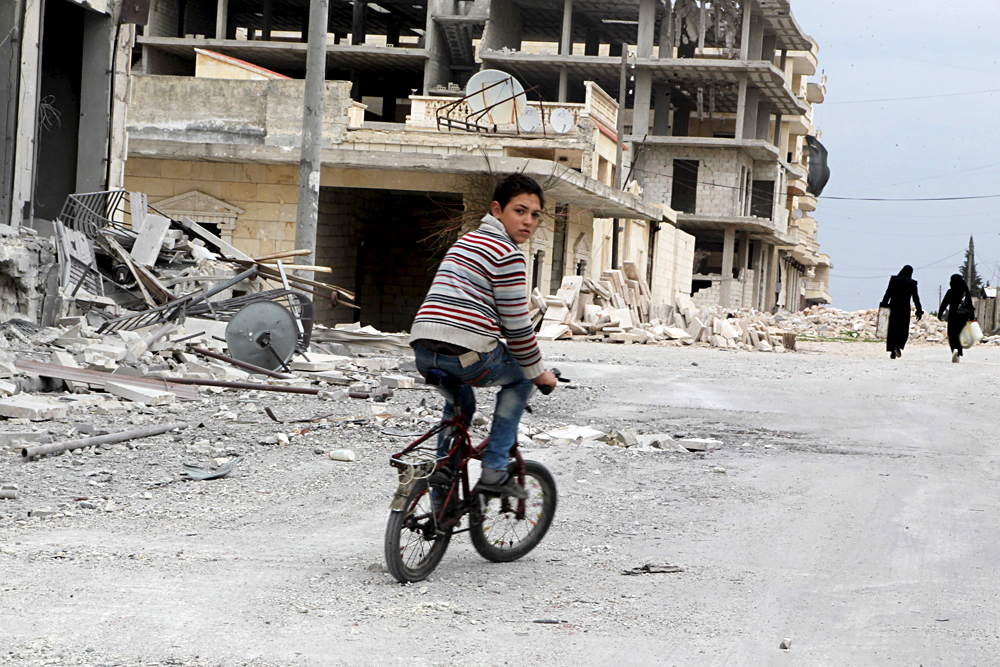 A boy rides a bicycle near damage in Kafr Hamra village, northern Aleppo countryside, Syria February 27, 2016.
Reuters
UN proposes establishing pauses in combat operations to bring aid
The Russian Defense Ministry is prepared to support the proposal made by the UN Secretary-General's special envoy for Syria, Staffan de Mistura, for 48-hour humanitarian pauses to bring humanitarian aid to civilians in the Syrian city of Aleppo and to observe the first such pause next week, the Russian Defense Ministry's spokesman Igor Konashenkov has said.
"With the guiding principles of international humanitarian law and the goal of enlarging the scale of humanitarian operation in Aleppo in mind the Russian Defence Ministry is ready to support the proposal of the Special Envoy of the UN Secretary-General for Syria Mr. de Mistura concerning the establishment of a 48-hour humanitarian pause to supply the population of the city with food and medical items and to restore life-support systems that were destroyed in result of militia shelling," he said.
He said the Defense Ministry was prepared to observe the first such 48-hour "humanitarian pause" as a "pilot project" as early as next week to confirm it was safe to deliver cargoes to local civilians.
"More precise date and time will be determined after receiving information about the readiness of the convoys from the UN representatives and receiving confirmation of the security guarantees of their safe travel from our American partners," Konashenkov said.
The UN Secretary-General's special envoy for Syria Staffan de Mistura last week came out with an idea of introducing 48-hour pauses in combat operations to deliver aid to Aleppo's population. He said three-hour pauses proposed by Russia were not enough.
Moscow and Damascus launched a joint humanitarian operation in Aleppo on June 28. Several corridors were opened for civilians and militants to leave the city and to deliver food, medical supplies and essentials to Aleppo. Russia's General Staff later said that combat operations in Aleppo would be paused each day for three hours to let humanitarian convoys reach the city's center.
Source: TASS
All rights reserved by Rossiyskaya Gazeta.