Medvedev lays flowers at Tomb of Unknown Soldier in Kursk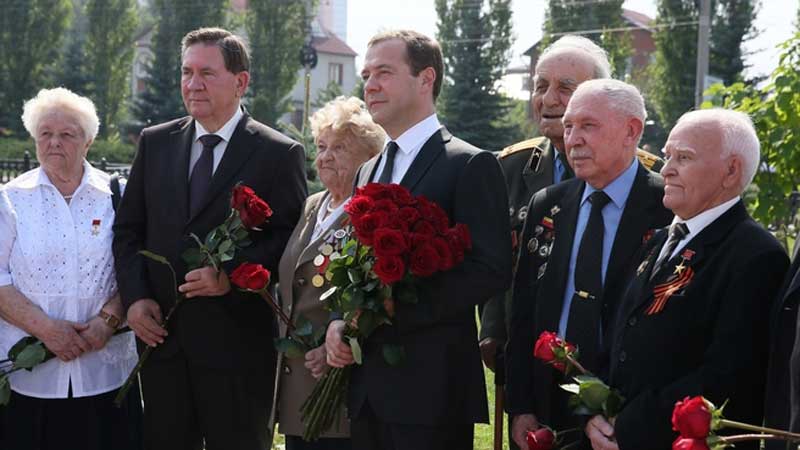 Russian prime minister visits the Kursk Bulge Memorial Complex
Russian Prime Minister Dmitry Medvedev laid a wreath at the Tomb of the Unknown Soldier in Kursk on Aug. 22 and talked to the World War II veterans, noting that the memory of their heroism should be preserved.
The prime minister came to Kursk on the occasion of the anniversary of the end of the Battle of Kursk. He said he had been here a year ago. Medvedev thanked the veterans and said it is necessary to remember the deceased war participants, adding that the significance of their heroic deeds is becoming more evident from year to year. "But most importantly, we should keep it in our memory, which is in our power," Medvedev said. According to him, schoolchildren and students should be told about this feat.
Kursk survived fierce battles during the Great Patriotic War (of Russia against Nazi Germany in 2941-1945). The city was occupied by the Nazis from November 2, 1941 to February 8, 1943. Over that time the city residents had to endure hunger, terrible epidemics, executions and German death camps. In 2007, Kursk, among the first three Russian cities was awarded by the Russian presidential decree the honorary title City of Military Glory for courage, fortitude and heroism during the war.
The Kursk Bulge Memorial Complex is located at the northern entrance to the city. The first stage of the memorial was built in 2000 for the 55th anniversary of Russia's Victory in the war. The remains of Red Army soldiers who were executed by the Nazis were found during the memorial complex construction. They were buried in the Tomb of the Unknown Soldier that is part of the memorial complex.
Source: TASS
All rights reserved by Rossiyskaya Gazeta.