Russia finishes 4th in standings at Rio Olympics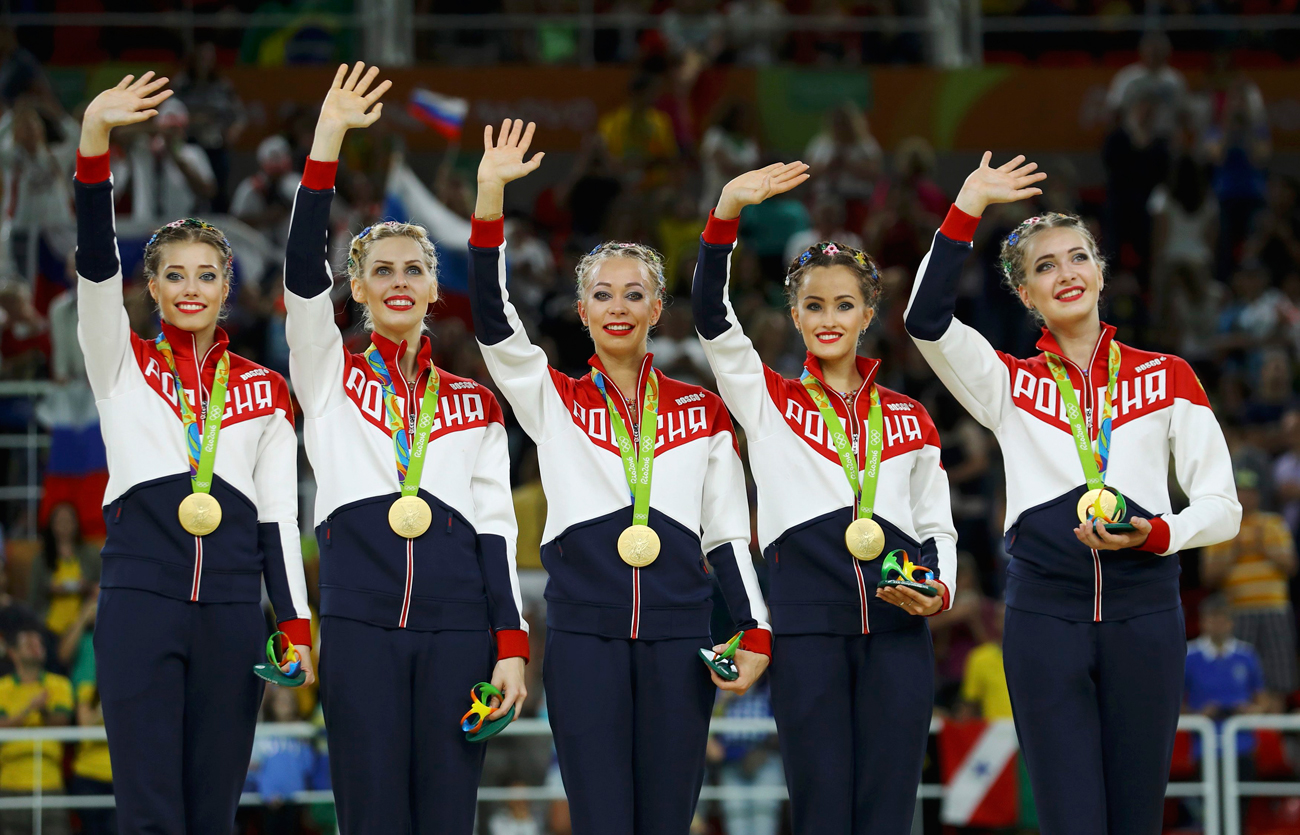 Russia's rhythmic gymnastics team pose with their gold medals on the podium, Rio Olympic Arena, Aug. 21.
Reuters
Team wins 19 gold, 18 silver and 19 bronze medals
The Russian team ends the Summer Olympics in Rio de Janeiro ranking fourth in the unofficial team standings, winning 56 medals - 19 gold, 18 silver and 19 bronze.
Russia won in those events which were not affected by doping scandals and where its athletes no problems with the admission to the Olympics.
Many leading athletes, including Yulia Efimova, the team's main hope in swimming, were allowed to participate in the Games at the last moment thanks to decisions of the Sports Arbitration Court.
Russian fencing team won seven medals including four gold ones. The wrestling team won nine medals including four gold ones.
The team also won gold medals in synchronized swimming, rhythmic gymnastics and judo.
Most of the events were not gold for Russians but some performances of young athletes, although they were not victorious, gave hope for the future.
Russia showed that it has excellent sprinters in cycling track - Anastasia Voinova and Daria Shmeleva who finished second in the team sprint.
19-year-old Stephanie Elfutina won bronze in surf-class sailing event.
The Olympics in Rio also discovered promising swimmers - bronze Olympic medalists Evgeny Rilov (back) and Anton Chupkov (breaststroke).
The silver medal of Russian women archers in the team competition as well as medals of very young shooters - Vitalina Batsarashkina and Vladimir Maslennikov - can be considered a breakthrough.
For the first time in 16 years Russian water polo players won an Olympic medal, a bronze, while the handball team under the leadership of Eugeny Trefilov undoubtedly became the brightest Russian team at the Olympics.
Having won in all the matches of the tournament, women's handball team won the first ever Olympic gold medals. It also became the first Russian Olympic champion in the women's team sports.
Source: TASS
All rights reserved by Rossiyskaya Gazeta.