Russian Be-200 planes extinguish fires in 2 Portugal settlements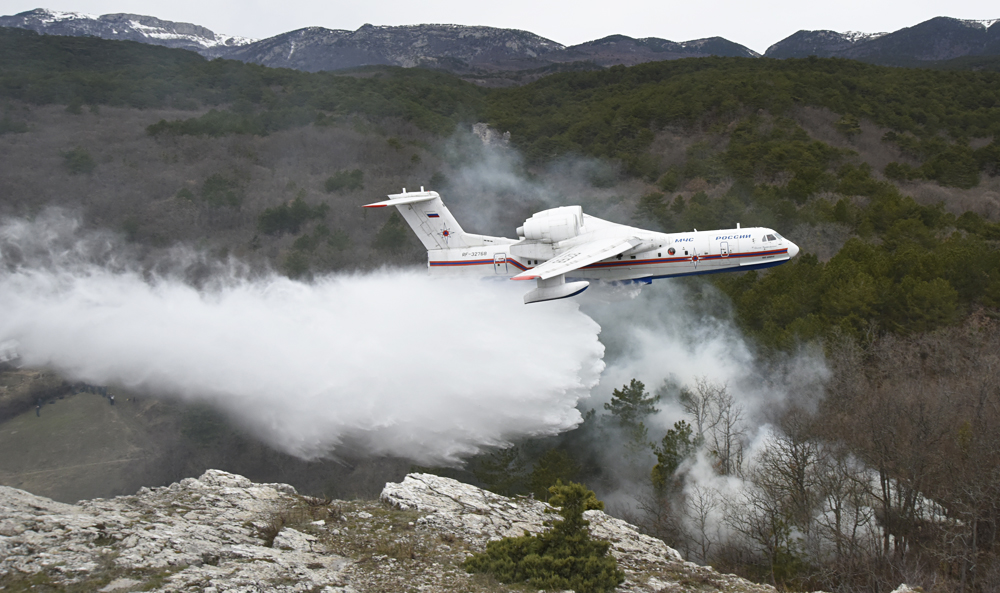 A Beriev Be-200 multipurpose amphibious aircraft.
Alexei Pavlishak/TASS
Two planes engaged in an operation to extinguish wildfires in the country
Russian Emergencies Ministry's amphibious planes Beriyev Be-200 have protected from wildfires in Portugal two more settlements, which are home to almost 30,000 people, the ministry's press service told TASS on Aug. 23.
"Over the past 24 hours, two Be-200ES planes of the Russian Emergencies Ministry were engaged in an operation to extinguish wildfires in mainland Portugal. They dropped 144 tons of water on the hotspots, making 12 sorties. Thus they prevented the fire spread in the direction of the Sierra de Estrela National Park and two settlements with a population of over 28,000 people," he said. The Emergencies Ministry pilots just in a day extinguished two fires in a total area of 1,100 hectares.
Two Be-200 amphibious aircraft of the Russian Emergencies Ministry arrived in the Portuguese city of Leiria on Aug. 13 at the request of Portugal. They started fire-fighting operations the next day. The crew of the Be-200 planes comprises skilled pilots with rich experience of battling fires in most difficult conditions. Over the past few days, mainland Portugal and the island of Madeira have seen a considerable reduction in forest fires, which is largely the result of the effective performance by the international air group.
The Beriev Be-200 multipurpose aircraft has a capacity of 12 tons of water and is capable of suppressing large-scale wildfires by means of multiple water drops on a fire site.
"During their work in Portugal the Russian aircraft have extinguished 10 fires in a total area of more than 2,000 hectares, protecting from blazes three national parks and seven settlements with a population of more than 55,000 people," the Emergencies Ministry said.
The amphibious planes dropped 936 tons of water on the burning forests form which fire could spread to nearby populated localities. Alongside Russia's two Beriyev-200s, planes from Italy and Morocco are taking part in the forest fire fighting operations in Portugal at the local authorities' request.
Source: TASS
All rights reserved by Rossiyskaya Gazeta.