Russian, German, French leaders to discuss Ukraine at G20 summit in China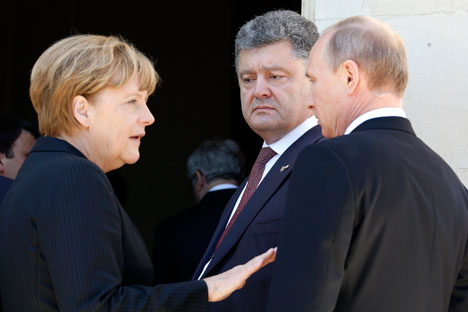 Putin, Merkel and Holland will meet on the sidelines of the G20 summit in China to discuss Ukraine.
Reuters
The summit will be held on Sept. 4-5
Russian President Vladimir Putin, Germany's Federal Chancellor Angela Merkel and French President Francois Holland will meet on the sidelines of the G20 summit in China to discuss Ukraine. The Kremlin's press-service says they agreed to hold such a meeting in a telephone conversation earlier on Aug. 23.
"The three leaders agreed to maintain personal contacts over Ukraine, in particular, to hold a joint meeting on the sidelines of the Sept. 4-5 summit of the Group of 20 in China," the news release says.
Russian Foreign Minister Sergey Lavrov in early August said Ukraine had proposed a meeting of the Normandy Quartet leaders at the G20 summit in China. Lavrov added that Russia would support that initiative on the condition Germany and France agreed and if China, the host country, provided a site for the negotiations.
On Aug. 10 Russia's federal security service FSB said it had detained a group of saboteurs in Crimea and prevented a series of terrorist attacks plotted by the Ukrainian Defense Ministry's intelligence department. Putin said shortly afterwards that it would make senseless to have a Normandy format summit in a situation like this.
Normandy Quartet talks on a settlement in Donbass have been held since June 2014. At the ceremony timed for the 70th anniversary of the allied landing in Normandy the leaders of Russia, Ukraine, France and Germany for the first time discussed a settlement of the conflict in the southeast of Ukraine. There have been several meetings ministerial and summit level in this format since.
Source: TASS
All rights reserved by Rossiyskaya Gazeta.