Egypt promises new air terminal for Russian tourists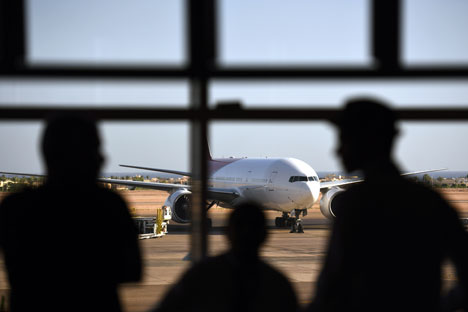 Tourists look out at a Russian plane on the tarmac of the airport in Egypt's Red Sea resort of Sharm el-Sheikh on November 6, 2015.
AFP / East News
The country will open new terminal at Cairo International Airport
The Egyptian side is ready to provide to Russians a separate terminal at Cairo International Airport, if the influx of tourists from Russia reaches significant levels, press attache of the Egyptian Embassy to Russia Ayman Mousa said on the Rossiya 24 TV channel on Aug. 26.
"Egypt will soon open a new terminal," he said. "Experts from Russia and the whole world have highly assessed it. The minister of civil aviation said that we will receive your (Russian) aircraft at the terminal, and do not mind to discuss the terminal's use when the number of tourists from Russia reaches a certain level. This level has not been defined yet, as it's the subject of discussion between the two countries", said the embassy official.
Earlier, Russian Transport Minister Maxim Sokolov also spoke about the prospects of opening a new terminal for Russian tourists, noting that "it all depends on the Egyptian colleagues." He said that the conclusion of Russian specialists on the new terminal's security could provide the basis for decision making by the Russian leadership.
According to him, a second terminal for servicing Russian tourists may be opened in that airport.
Negotiations on resuming air service with Egypt have been underway since late 2015. At the moment, Egypt's airports still fail to meet the Russian security requirements.
Air service with Egypt was suspended by Russia in Nov. 2015 after a terrorist act on board an A321 plane of Russia's air carrier Kogalymavia that was en route from Sharm el-Sheikh in Egypt to St. Petersburg in Russia. The passenger airliner crashed over the Sinai Peninsula early on Oct. 31. All 224 people onboard, including 217 passengers and the seven-member crew, were killed. This crash was the worst in the history of Russia's aviation.
Source: TASS
All rights reserved by Rossiyskaya Gazeta.