Russia and India to produce first joint film in 25 years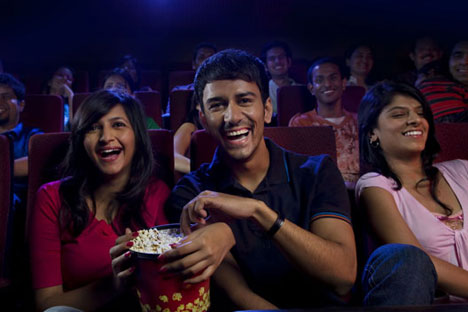 The new Russian-Indian co-production called 'The Best Friends' is directed by Beslan Terekbayev.
Shutter Stock/Legion Media
New Russian-Indian movie called 'The Best Friends'
Russia and India will produce their first joint film after a 25-year-hiatus, Valeria Kolesnik, a spokesperson for the Russian Culture Ministry cinematographic department told journalists on Sept. 2.
"The Culture Ministry actively supports joint film projects in which movie producers from various countries take part. Mutual productions are always welcome by film audiences. The new Russian-Indian co-production called 'The Best Friends' is directed by Beslan Terekbayev," Kolesnik said on the sidelines of the BRICS' first film festival, which had got underway in the Indian capital.
She also said that Russian cinema was making a comeback to India.
"A Russian film called "The Crew" (2016) will be released in India soon under an agreement with Indian partners. It will be screened in at least 2,000 movie theaters," Kolesnik said.
Beslan Terekbayev, who is attending the BRICS film festival, said that his film "The Best Friends" would be released in 2017. "The film's plot is about friendship between Russian, Chechen and Indian boys who find themselves in Russia where they encounter and get entangled in various adventures. Casting has already been made. For the moment, the Russian side is looking for co-partners among Indian movie makers," Terekbayev said.
Several joint Soviet-Indian films were made during the Soviet era such as: "A Journey Beyond the Three Sea" (1957); "Black Mountain" (1971); "Rikki-Tikki-Tavi" (1975); "Sunrise Over The Ganges" (1985); "Ali Baba And The Forty Thieves" (1979); "A Legend of Love" (1984); "Black Prince Ajouba" (1989) and "By The Law Of The Jungle" (1991).
The BRICS' film festival (Brazil, Russia, India, China and South Africa) opened in New Delhi on Sept. 2. Twenty films - four from each BRICS country - will be screened in the main contest program. The Russian National Academy of Cinematographic Art and Science and the department of cinematography of the Russian Culture Ministry had organized the festival from the Russian side.
Source: Tass.com
All rights reserved by Rossiyskaya Gazeta.