Russia calls Belarusian who carried its flag at Rio Paralympics 'hero'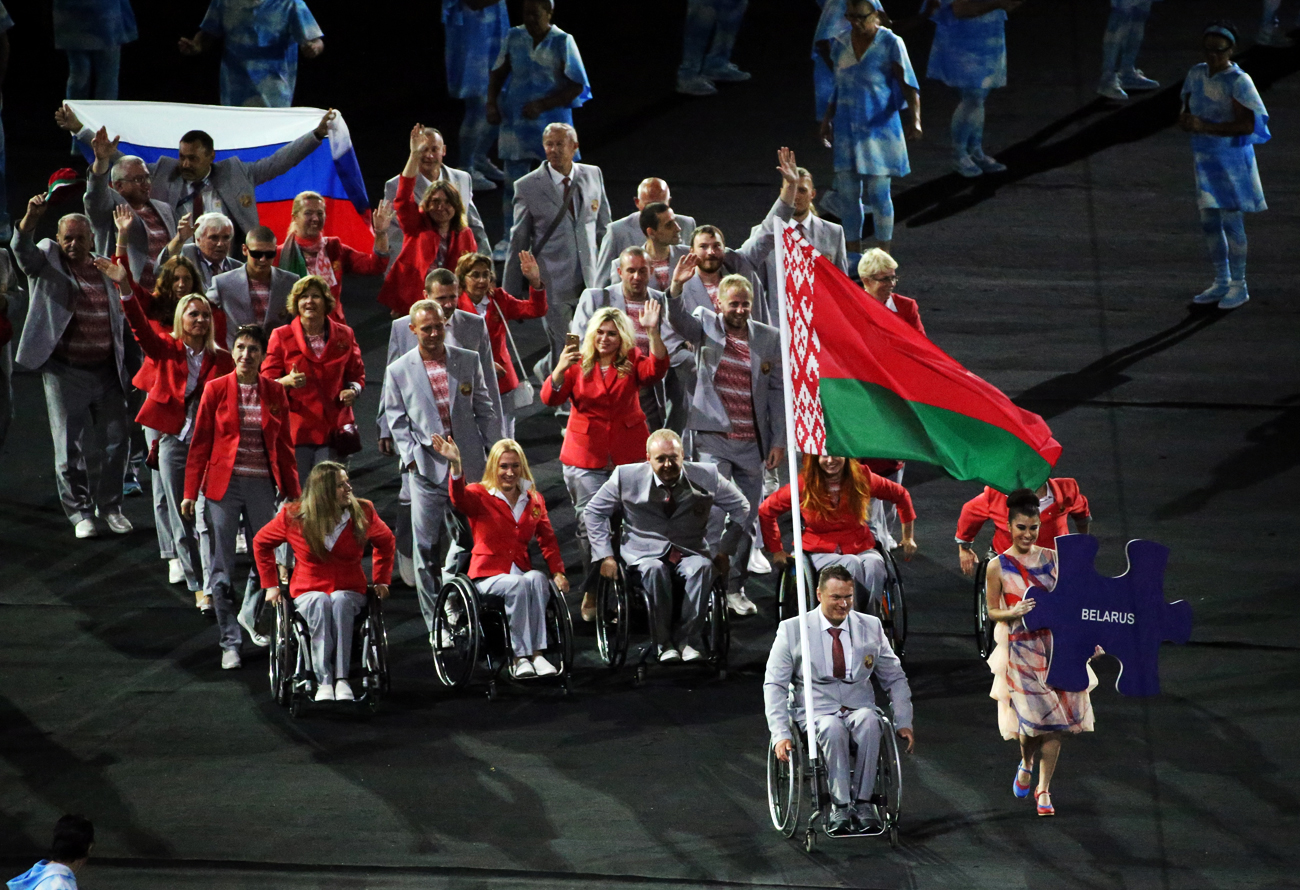 Athletes from Belarus take part in the Rio Paralympics opening ceremony, Sept. 7, 2016.
Reuters
Belarusian Paralympic Committee said it was 'a gesture of solidarity'
Russia's Foreign Ministry official spokeswoman Maria Zakharova has called a representative of Belarus who carried a Russian flag at the Paralympics opening ceremony in Rio de Janeiro "a hero."
"Today we have a hero. This is a man who brought the Russian flag at the opening of the Paralympic Games in Rio showing solidarity with those who had been barred from the Rio Paralympics in a mean and inhuman way," Zakharova told reporters.
"I think we will find out his name," the diplomat added. "We are proud as there are such people, these are people who are out of politics." "Thanks a lot to our Belarusian friends, and especially to this person," she said. "Such things cannot be forgotten. This is a true human move."
During the parade of nations at the Maracana stadium on Sept. 7, a member of the Belarusian team's delegation carried the flag of Russia along with their national flag.
The head of the Belarusian Paralympic Committee, Oleg Shepel, later said this was done in "a gesture of solidarity" with the Russian team barred from the Games over the unconfirmed anti-doping rule violations, the Belta news agency reported.
On August 7, the International Paralympic Committee (IPC) took a decision to bar the entire Russian Paralympic team from taking part in the 2016 Summer Paralympics. The ruling came on the heels of a report delivered earlier in the summer by the Independent Commission of the World Anti-Doping Agency (WADA).
The Paralympic Games are held in Brazil's Rio de Janeiro on Sept. 7-18.
Source: TASS
All rights reserved by Rossiyskaya Gazeta.