UEFA slaps Russian Rostov FC with penalties over fans misconduct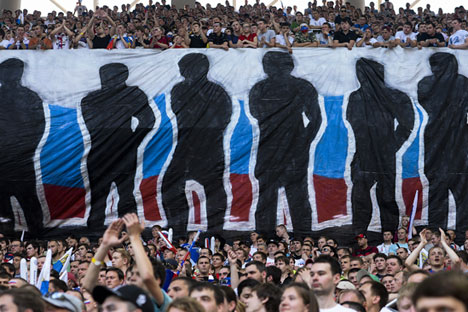 UEFA imposed penalties on Rostov FC over its fans racist behavior at Champions League's home match against Ajax.
Alexander Vilf / RIA Novosti.
Rostov FC player Kudriashov also suspended for next 3 UEFA matches
The Union of European Football Associations (UEFA) announced on Sept. 9 that it imposed penalties on Russian football club Rostov over its fans racist behavior at Champions League's home match against Dutch FC Ajax in August.
"The CEDB (Control, Ethics and Disciplinary Body) has ordered the partial closure of the "East Stand" of the FC Rostov Stadium during the next UEFA competition match in which FC Rostov plays as the host club," the statement from UEFA said.
"The sector (or sectors) to be closed shall be located in the "East Stand" and comprise at least 1,500 seats," according to the statement.
UEFA also confirmed that Rostov FC player Fedor Kudriashov, who was handed the red card during the match against the Dutch club, was suspended for the next three UEFA matches. According to earlier TASS reports, Kudriashov's suspension was appealed by the club.
"To suspend the FC Rostov player Fedor Kudriashov for three UEFA competition matches for which he would be otherwise eligible," UEFA's statement said.
Rostov FC was receiving Ajax FC at home stadium on Aug. 24 in the second leg of the 2016/2017 UEFA Champions League play-off round. The Russian club defeated Ajax on its home turf with the impressive 4-1 flashing on the scoreboard after the final whistle.
The first leg encounter in Amsterdam on Aug. 16 ended with 1-1 draw and with the score of 5-2 on the aggregate Rostov FC advanced to the group stage of the UEFA Champions League tournaments for the first time in the club's history.
Source: TASS
All rights reserved by Rossiyskaya Gazeta.