Russian adventurer Konyukhov to erect limestone cross in Mariana Trench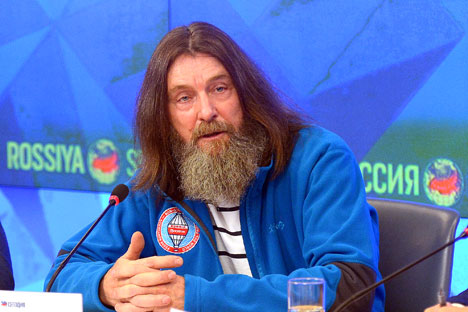 Traveler Fyodor Konyukhov.
Vladimir Trefilov / RIA Novosti
Specific dates for the journey have yet to be announced
Russian survivalist Feodor Konyukhov known for his South and North Pole expeditions, plans to put up a Russian Orthodox cross made of paleozoic limestone at the Mariana Trench in the western Pacific Ocean as his upcoming deep sea diving adventure.
The limestone planned for the cross, which dates back 360 million years, was mined in the Novgorod Region and will be handed over to a jewelery maker, who specializes in making Russian Orthodox symbols.
Konyukhov, 64, plans an immersion project in a bathyscaphe in the Pacific Ocean's Mariana Trench. The traveler wants to submerge to the bottom, which is about 10,994 meters below sea level. The adventurer wants to stay in the trench for several days in order to conduct scientific research. Specific dates for the journey have yet to be announced.
In July, Konyukhov had broken the record for the fastest circumnavigation of the Earth in a hot air balloon. It took him 11 days, while the previous record set by American adventurer Steve Fossett was 13.5 days. Konyukhov traveled 35,000 kilometers and crossing Australia, the Pacific, South America, Atlantic Ocean, the Cape of Good Hope and the Indian Ocean.
Source: TASS.com
All rights reserved by Rossiyskaya Gazeta.