Steven Seagal to visit film festival in Russia's Far East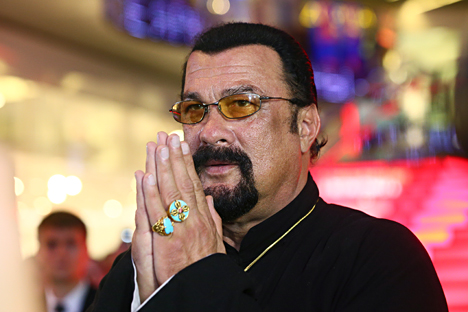 American actor Steven Seagal at the star unveiling ceremony for the actor on the Moscow Alley of Glory in Moscow's VEGAS trade center.
Alexander Shcherbak/TASS
Hollywood star will arrive in Sakhalin on Sept. 14
Hollywood actor Steven Seagal will visit the "Edge of the World" film festival on the Russia's Far Eastern island of Sakhalin, a source in the regional ministry of culture and archives told TASS on Sept. 13.
"He will arrive in Sakhalin tomorrow and will undoubtedly meet with locals," the source said.
The sixth "Edge of the World" Sakhalin Film Festival opened on Sept. 9. In the recent years it has become one of Russia's biggest and most reputable events with programs featuring Russian and foreign movies, especially from Asian countries.
Last year, Sakhalin's residents had a chance to see some motion pictures new to national film festivals, among them were "Tryapichny soyuz" (translated as "Ragged union") by film director Mikhail Mestetsky, "Chayka" (or "Seagull") by Ella Manzheeva, "Pro lubov" (translated as "About Love") by Anna Melikyan, and also some movies previously shown at the Cannes, Berlin and Venice film festivals.
Source: TASS.com
All rights reserved by Rossiyskaya Gazeta.